May Day: Even minimum wage eludes the workers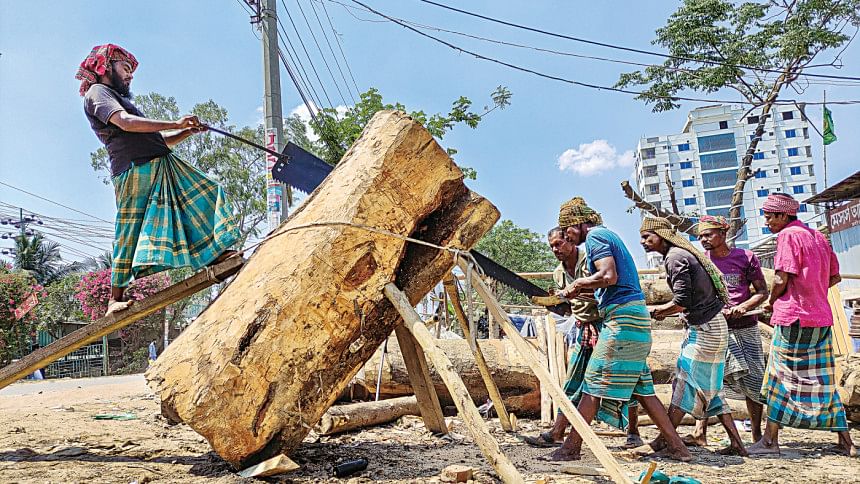 The readymade garment sector is just one of 42 industrial sectors for which the government decides the minimum wage.
Workers of 24 of the remaining 41 sectors have a minimum wage less than that of an RMG worker. The lowest wage in 10 of the sectors is half or less than half of an RMG worker's minimum pay.  
Employees in most of these sectors in the past have not had any nationwide trade union representatives speaking for them in the wage boards formed to set their minimum pay.
RMG workers are now campaigning to get their minimum wage raised to Tk 22,000, from the Tk 8,000 set in 2018, so that their pay is in accordance with the current market prices of essentials.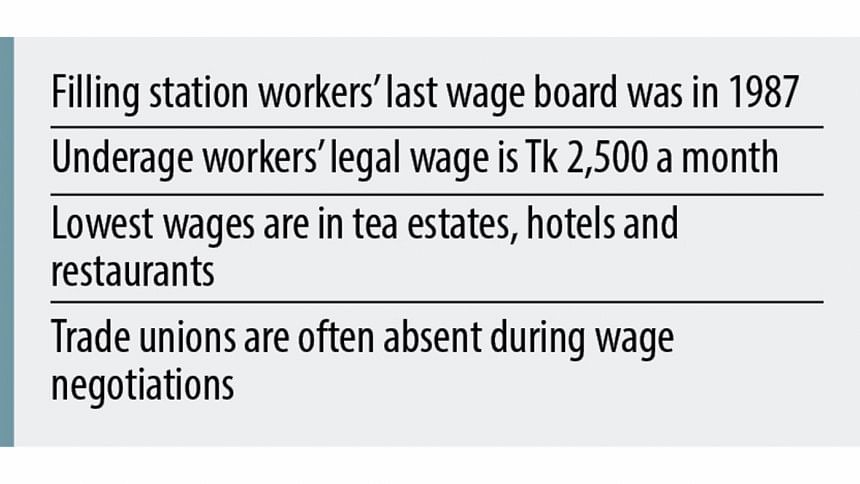 The RMG workers' pay hike demand is being backed by national and international trade unions at a time when inflation is at 9.33 percent, a rate just short of the 10-year-high of 9.52 percent recorded last August.
The minimum wage in at least 27 sectors was set in 2018 or before and the workers are struggling to make ends meet as silence reigns over their collective bargaining movements.
The last time filling station workers had their minimum wage set was in 1987. Thirty-six years later, their minimum pay is still Tk 792.
Many workers in this sector have no clue that it is a listed sector and they are legally entitled to negotiate their wages.
Md Milon of Poribar Petrol Traders, a filling station in Shahbagh, has been working for 25 years at the pumps.
He gets Tk 12,000 a month.
He and seven other workers at the filling station expressed amazement at the concept of a wage board.
"If we get the wage board, it would be great. I will have job security," he said.
Thankfully, the negotiations for minimum wage in this sector are now going on after 36 years, but that the sad thing are no nationwide filling station workers' union representatives on the wage board, documents show.  
The workers are being "represented" by the president of the Khulna Divisional Tank-lorry Workers Union. This is happening in a country that has nearly 4,800 filling stations.
The wage board had their first meeting on February 16.
Workers in the leather processing factories in Posta and Lalbagh are on a similar boat.
They apply salt to rawhide before sending it to tanneries. Since their job is at the bottom of the shoe-making supply chain, they often remain invisible to international buyers who usually ensure compliance of tanneries.
In 2020, Tk 8,025 minimum wage was declared for them when they had none of them or their trade unions representing them in the wage negotiations. 
A line leader of one of the biggest and most compliant tanneries had sat in to represent them.
Now, the workers get paid Tk 20 for every piece of hide that they process.
"Earnings are good during the two Eids when there is a lot of work. But the rising cost of beef has shrunk our earnings," a worker said.
If people are buying beef less, fewer cattle are slaughtered and fewer rawhide are required to process. 
Workers speaking anonymously to this correspondent showed cracked skins of hands calloused by rubbing salt on hides all day. They said their pay does not allow them to get treatment for these.
In 2022, the minimum wage for a sawmill worker was fixed at Tk 17,900. Many workers, however, do not know about the minimum wage and many owners have no intention to comply with the law.
Al Makkah Saw Mill has been at Mirpur-10 for 30 years. Khalilur Rahman, a co-owner and manager, stated flat out that he cannot pay workers according to the wage board.
Fourteen workers in the mill are paid between Tk 5,000 and Tk 12,000 a month, far below the government-set rate.
Md Julhas, manager of Cumilla Timber Saw Mill next door, pays his workers between Tk 200 and Tk 400 a day, which means the workers can only earn between Tk 5,000 and Tk 10,000 a month.
The minimum wage for automobile workshop employees was fixed at Tk 7,610 in 2018, but the workers actually get a pittance.
Md Rasel, owner of Ayad Auto Tech at Mohammadpur's Beribadh, used to get paid as per the wage board when he worked in a larger and well-established workshop. He, however, pays his mechanics Tk 5,000 a month.
"… I cannot let them [his mechanics] know about it. Nobody gives these [pay according to the wage board] unless they are a big company," he said.
He employs about 15 people.
One of his mechanics explained that the only way that he can make ends meet in this economy is by attending house calls afterhours and by pilfering parts.
There are 12 types of jobs that have an official minimum wage that is less than Tk 5,000.
Workers in tea estates, hotels and restaurants, iron foundries, engineering workshops, ayurvedic factories, match factories, hosiery factories, and tailoring shops are getting such pay.
Employees in salt crushing, soap and cosmetics, cotton textile production, bakeries and confectionaries, cold storages, and shrimp processing get between Tk 5,000 and Tk 7,000.
Of these sectors, cotton textiles, tea estates, and shrimp processing plants are primarily export-oriented industries.
Bangladesh last year exported cotton textiles and shrimp worth $770 million and $532 million.
The minimum wage for workers at shrimp processing plants was set at Tk 6,700 in 2022, a year in which Bangladesh saw the highest inflation in a decade.
The wage for underage workers in industries and factories is a mere Tk 2,500.
On Saturday, Asia Floor Wage Alliance said that they interviewed 300 RMG workers from 63 factories and found that an RMG worker consumes on average only 1,950 kilocalories every day when the standard is 3,000 kCal for those involved in physical labour.
This is because RMG workers earn on average only Tk 10,000 a month, it found.