Martyred Intellectuals Day: A loss not entirely personal
A daughter recounts family tragedy of 1971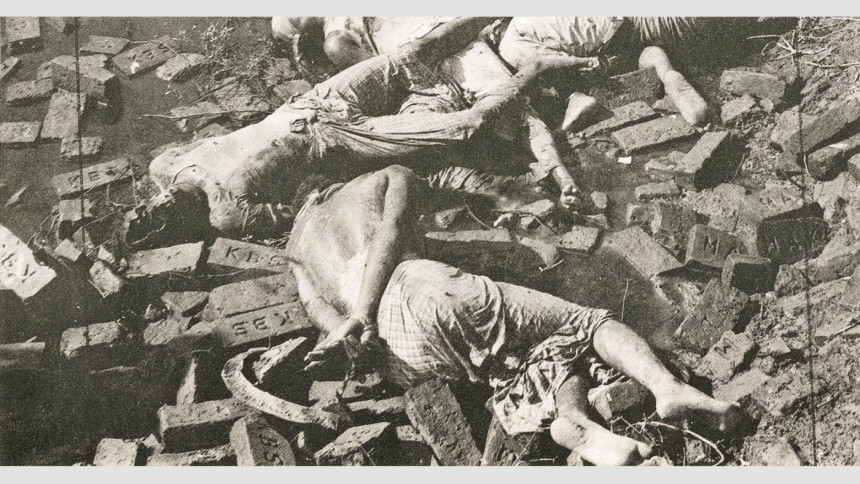 The entire Lalmonirhat was reeling from shock and horror after a brutal massacre on April 5, 1971.
Bangalees living in the small district town bounded on the north by India were scurrying to remote villages along the border after the Pakistan occupational army with the help of a section of Urdu-speaking Biharis killed several hundred people near the railway station.
Alarmed and worried, Mostofa Hasan Ahmed, a teacher revered in the locality and known as Hasan Sir, was still hesitant to leave his home in a neighbourhood called Saptana.
His wife, Selima Ahmed, was in her last month of pregnancy, which made it difficult to move. She gave birth to a baby girl just six days after the mass killing.
As things were changing fast during the initial days of the Liberation War, Hasan, the father of five, sent his eldest son Swapan and one daughter Saki to his in-laws' house in Kakina village of the district.
At the same time, the assistant teacher of Railway Children Park School fixed April 19 for moving with the rest of the family members to a faraway place in Mogolhat, a bordering area where his ancestral home is located.
As the day started, the family completed their breakfast and began to prepare for leaving. Around the same time arrived a "daima" -- a traditional midwife -- to see the family's newborn, Nazneen Sathi, whom she helped come to the world.
Selima, also a teacher of Lalmonirhat Girls High School, known by all as Boro Apa, was giving food and gifts to the midwife for her service. Sathi was lying quietly on a bed while her two siblings, Kusum and Mousum, were playing.
Hasan was plucking jackfruit leaves and feeding his goats in the yard.
Right at the moment, a group of Biharis stormed into the house wielding locally made weapons. Divided into two groups, one got hold of Hasan while the other surrounded Selima. The midwife ran away in no time.
"Come with us. Major Saheb has asked for you," one of the armed men asked Hasan.
Soon they took him out and started walking along the playground adjacent to the house. His three-and-a-half-year-old son Mousum was crying out "Abba", and his wife was looking out the window -- shaken with untold fear.
When Hasan reached the other end of the field with the men, he put out a prayer cap from his pocket and wore it. Then he turned back.
"His facial expression gave a hint that he was being taken away forever -- my mother told us. He never returned," Sathi, now a writer and cultural activist, said in an interview with The Daily Star.
She grew up hearing from her mother and other family members about the events unfolding after her father's abduction on April 19, 1971.
"My introduction to my father is through his photographs, some of his handwritten letters and bits and pieces of memories of people I know. They told me that my father was a good human being and a politically conscious person with high integrity," she said.
Hasan is believed to be the first victim of the Pakistan army's plan to round up and kill intellectuals in Lalmonirhat. But to conclude on this, further research on the district's war history is needed, she added.
Though the Pakistan military campaign to wipe out Bangalee intelligentsia continued throughout the nine-month of the war, the final act took place on December 14, now observed as Martyred Intellectuals Day.
Sensing imminent defeat, the Pakistan army along with local collaborators orchestrated a plan to destroy the future of the new country. They picked up scores of brightest and illustrious citizens, and tortured and killed them brutally.
Hasan became the target at the beginning of the war. And the reason was simple: he encouraged people, including his students, to take part in the war, which made the non-Bangalees furious, according to the family members.
He was not engaged in politics directly but had contacts with all the progressive politicians in the town. He would listen to news on the radio regularly and discuss the situation with the locals.
Born in 1928 in Fenua of Laksham, Hasan had his education from McWilliam Higher Secondary School in Alipurduar of India as his father took him and his another son there for better education.
After completing his matriculation there, he came back and did his intermediate and BA from Carmichael College in Rangpur. He got married in 1955.
Hasan taught at a school in Patgram before joining as the revenue circle officer (RCO) at Kurigram's Bhurangamari where he worked for seven years. He came back to Lalmonirhat in 1963-64 and began teaching at Children Park School.
As the war broke out, the marauding army entered Lalmonirhat in April and carried out atrocities with the help of non-Bangalees.
STRUGGLE AFTER THE FATEFUL DAY
As Hasan was picked up on the morning of April 19, Selima got out of the home with her three children, holding eight-day-old Sathi, draped in a cloth, close to her chest.
She ran to the next-door neighbour known as Kazi Shaheb (a marriage registrar). Upon hearing the news, he could anticipate what was going to happen.
Right then, they saw a group of Biharis taking away their neighbour, Rokan Uddin, a railway official, along with them.
Without wasting time, Kazi Saheb got his family members ready to leave the place, taking Salma's family along. But before they could start, the group of Biharis turned up at the house.
"Come here, Kazi Saheb. You have to go with us," said one in the group.
It did not take long for Selima to get a sense of the danger lurking. She left immediately, thus starting an odyssey for the unknown. Two other women and their children joined her.
She decided to go to Hasan's ancestral home in Mogolhat and began walking. On her way, she saw houses engulfed in flames with people running for safety. She paced up.
Then, at one point, they were intercepted by a team of Pakistan military. The soldiers asked them where they were headed but let them go since there were no youths with them. After walking for the entire day, Selima finally reached Mogolhat.
"Imagine how a woman who had given birth to a child just eight days ago made such a long journey. She walked for around 17-18 miles that day," said Sathi.
After staying at in-law's home for a few days, Selima's brothers-in-law sent them to another remote place named Gandhamarua, northwest of Mogalhat, by an animal-drawn cart.
She spent a few weeks there and went to her father's home in Kakina where she came to know that the Biharis had burned their Masterpara home to ashes.
After some days, Selima later began searching for her husband with the help of her father and brothers, shuttling from one place to another with his photograph. She went to Rangpur cantonment with her father, but Hasan was nowhere to be found.
Then in July, she came back to Lalmonirhat town. Wearing a veil, she even visited several homes belonging to the Biharis, but did not get any clue. She, however, saw arms stacked up in those houses.
"Some people said my father was perhaps detained somewhere else and would be freed after the dust settled down. My mother waited nine months and after the liberation, my father did not return," Sathi went on.
When Selima finally came back to Lalmonirhat town in 1972, she came to know from one of her neighbours that the Biharis killed him behind Lalmonirhat Boys School on that very day he was taken away.
"My father used to tell my mother that he would not let his children endure the struggle that he had done all his life. But everything changed after April 19 when my father was snatched away from us forever," added Sathi, now a resident of the capital's Adabor.  
Selima passed away in 2000.
"My mother waged another war all by herself after the end of the war. In fact, similar are the stories of the families of other martyred intellectuals and freedom fighters.
"As Martyred Intellectuals Day comes every year, I visit intellectuals' graveyards and memorials to pay respect to the illustrious sons of the soil," she said in a voice filled with emotion and pride.
"We do not have our father's grave but it feels like his grave is all over Bangladesh. Is not the entire country a graveyard of martyrs?"