Making a difference where it matters
A conservationist's relentless fight for wildlife, healthcare in CHT
When wildlife in Chattogram Hill Tracts (CHT) is facing the enormous threat of extinction amid massive deforestation, a conservationist has set an example by protecting wildlife sanctuaries by engaging with the community.
Taking the small community on board, he has ensured that wild animals can safely sprawl across the four-square-kilometre radius surrounding the locality.
A career designer at USI Limited Company based in England, 45-year-old Mahfuz Russel returned home from Manchester six years ago, leaving behind his secure job. Since then, has been working relentlessly to save wildlife.
During his days in Manchester, Russel used to explore the remote countryside and forests of Europe. He even lived several months with the indigenous community in the Amazon and with the African Maasai tribe.
"After I came back to Bangladesh, I took some time off and roamed the country on my bicycle," he said.
"When I first came to the area [Khagrachhari], I saw massive deforestation and wild animals being killed," said Russel. "I was quite shaken by that and decided to do something about it."
"Members of the community used to hunt rare wild animals. Now, they have a volunteer group saving these very animals from poachers, while also creating awareness about their importance in protecting the biodiversity," he added.
The group also holds awareness campaigns twice a month in the village, with occasional participation by the forest department to keep the villagers away from hunting and logging.
Yousuf Ali (45), a resident of Purbo Khedachara, is one of the volunteers. Yousuf used to constantly worry about his chickens, as Indian large civets used to prey upon them. "But for the last three years, the number of attacks by the civets declined dramatically, as now the carnivores get enough food inside the forest," he said.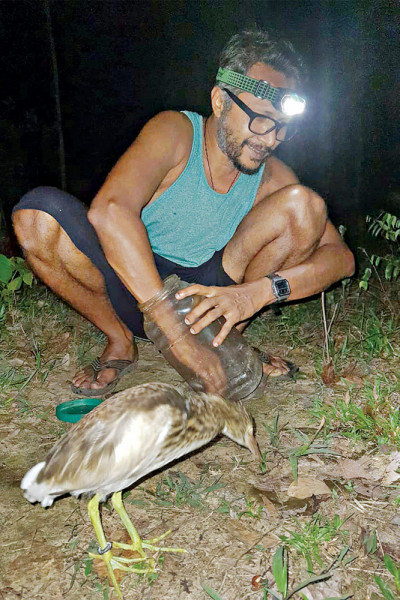 According to Yousuf, this has been made possible ever since locals stopped hunting.
"We never thought putting an end to the hunting would bring such positive results. We used to hunt junglefowl and other birds. The tactic was terrible. Sometimes, hunters used to set a part of the forest on fire to lead the animals to the net-trap they set up," Yousuf shared. He, however, mentioned that such brutality has declined to a great extent with the introduction of conservation.
"We are now keeping a watch on the forest, seizing snares and rescuing wildlife from those who secretly try to hunt them still," he added.
ASM Jahir Uddin Akon, director of the Wildlife Crime Control Unit of the Forest Department, also lauded Russel's initiative.
"This is an outstanding initiative. CHT was once enriched with wildlife. But due to indiscriminate hunting and poaching, the situation kept deteriorating," said the director.
"We will support the initiative so that it can set an example when it comes to conservation", he added.
Not only that, Russel has also been instrumental in providing basic healthcare facilities in Purbo Khedachara village of Khagrachhari's Matiranga upazila.
He has set up a clinic, a pharmacy and a library for the villagers. Dirathi Tripura, a local health worker engaged with the clinic, said primary healthcare was beyond the reach of locals before the clinic was set up.
But his work was not just limited to that.
"As alternative means of income, other than  working in the forest, were very few, I imparted vocational training to locals, particularly women, and provided them with sewing machines," he said.
Russel has also launched a campaign to help women suffering from reproductive health issues and struggling with menstrual hygiene.
"Eight months ago, I started training young girls on making reusable sanitary napkins. A team of 14 can now produce and distribute them among some 500 women of seven villages," said Russel.