Made In Tangail: Sari makers in overdrive
We've suffered a lot in the last two years. Many hand-looms had closed and many left for other professions. I just hope we can make up for the loss.
After a two-year-long wait owing to the pandemic, Tangail sari weavers have finally been able to dust off their looms.
With Eid-ul-Fitr coming ever so closer, they are now at the peak of the rush, producing various hand-loomed saris.
"Tangail saris", produced by local hand-loom weavers, are famous across the country and are almost always in demand. For their various designs and price flexibility, Tangail saris see a boost in sales in local markets ahead of Eid, as they continue to attract an increasing number of buyers from both home and abroad.
Local weavers said they have been making Eid saris for the last three months. They weave saris with prices ranging from Tk 400 to 20,000. They are being shipped to different markets and shopping malls throughout the country.
Weaver Raghunath Basak, president of Tangail Sari Traders' Association, said the design and colour of saris have to be changed every season to keep pace with the changing trends and tastes.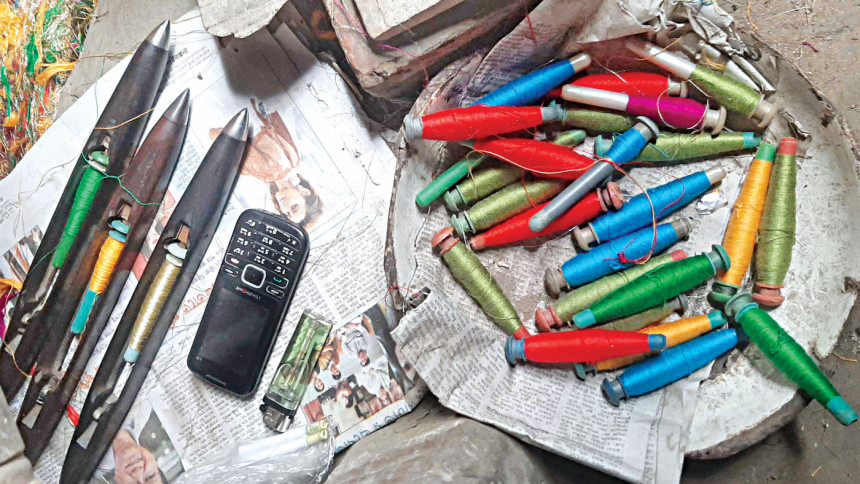 Swapan Basak, a sari trader in the same area, said, "We've added new designs to our collection to attract customers. The number of buyers is increasing as Eid approaches."
The same enthusiasm could be seen among customers as well.
Shahana Akhter, a resident of the city's Thanapara, came to Pathrail with her in-laws to buy saris for Eid.
"We've not been able to celebrate any festivals in the last two years due to the pandemic. So this year, I've come to purchase saris for myself, my daughter and in-laws."
"There are many sari shops in Tangail town, but I prefer coming to the weaving village and making direct purchases from their stores. The prices are relatively low here," she added.
There are several weekly markets for hand-loom saris produced in Tangail. Among them, the century-old Karatia market at Sadar upazila and Bajitpur market adjoining the district town are the most popular ones.
Throughout the year, wholesalers from all over the country come to these markets to buy saris. While visiting the weekly Karatia market recently, this correspondent saw buyers thronging the markets and purchasing their favourites.
Sari trader Ashraful Islam came to Karatia market from Rajshahi. "The saris I bought last month have already been sold out, so I came here again this week," he said.
Traders at the market, however, said the number of wholesalers and buyers before Eid is fewer than their expectations. Chandan Basak, a sari trader in the market, said, "I will not say that there is no sale at all, but it's not as expected."
"We've suffered a lot in the last two years. Many hand-looms had closed and many left for other professions. I just hope we can make up for the loss," he added.
Rabiul Islam, an official of Tangail Liaison Office of Bangladesh Handloom Board, echoed him.
"If the demand for hand-loom products, including saris, increases, skilled weavers who have left the profession will return," he said, adding that government support is vital in this regard.