Madagascar's Treasures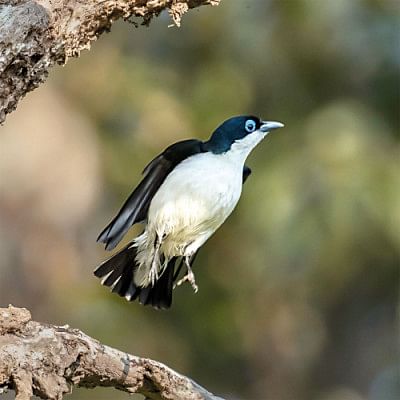 In Madagascar, nine out of ten species of flora and fauna are endemic. That is, they are found in Madagascar and nowhere else. When looking through photographs from a trip in 2017, I am vividly reminded of this fact.
The fourth largest island in the world, Madagascar evolved several ecosystems and numerous species after breaking away from Africa approximately 160 million years ago. It would take years for a nature photographer to do justice to its wealth of flora and fauna.
A mountain range running north-south through its middle divides Madagascar into several climate zones: wet in the east, dry in the west and even drier in the south. Each zone offers its own special biodiversity.
We visited the eastern and southern ecosystems: the rainforest of Andasibe and the spiny forest in the deserts of the south. Driving several hours from the capital Antananarivo we reached Andasibe at nightfall. The magic started at breakfast the next morning. From the restaurant terrace we saw a Chabert's Vanga – a black and white bird with blue eye rings - hopping around on a tree.
When I see a new bird in a new country I try to place it in context. The bird's family has members in other countries and I can compare to similar species I've seen elsewhere. For example, when I saw a Violaceous Trogon in Brazil, I immediately noticed its profile and pose were similar to the Red-headed Trogon of the forests of Bangladesh, so the new bird was not completely alien.
Not so with this vanga! The entire vanga family is seen only in Madagascar, so this bird was alien to me. Other birds we found later were similarly strange - Asities, Couas, Ground-rollers and Fodys among them.
In addition to the unusual birds, there were also the "almost but not quite" birds.
For example, down south we saw the Doel – Oriental Magpie Robin. But something was amiss: it was much smaller than our national bird. It turned out to be a separate species called Madagascar Magpie Robin. Our Kani Boga (Indian Pond Heron) is not found here but the Malagasy Pond Heron with a bright blue beak is rare and sought after by birders. And Common Kestrel, a small falcon seen in winter, has a Madagascar version. While the former is greyish with orange-brown wings, the latter is more reddish with shades of purple and orange on its wings.
Over a hundred species of gentle and friendly lemurs live on this island. The eighty species of snakes here are non-threatening: I was able to approach a resting boa within a few feet. There are numerous colourful chameleons and lizards. The only carnivore in Madgasacar is the fossa, about the size of a large dog. It eats lemurs.
Plant life here is no less exciting. Madagascar grows the world's vanilla, the seed pod of an orchid that must be pollinated by hand. Of the eight species of baobabs in the world, six are endemic to Madagascar. These bottle-shaped trees are striking. They store water in the desert areas; their fruit is also edible. In addition to exotic plants, there were also familiarities such as Krishnachura and Panthopadop which originated here in Madagascar.
I would very much like to return to Madagascar in the future. However, that may be some time away as Madagascar today battles famine-like conditions caused by climate change and locusts. We wish them a quick recovery.
facebook.com/ikabirphotographs or follow "ihtishamkabir" on Instagram.