'Maa, where did you go? Please, come back'
Parents in despair after losing daughter in road crash; NSU students demand justice for peer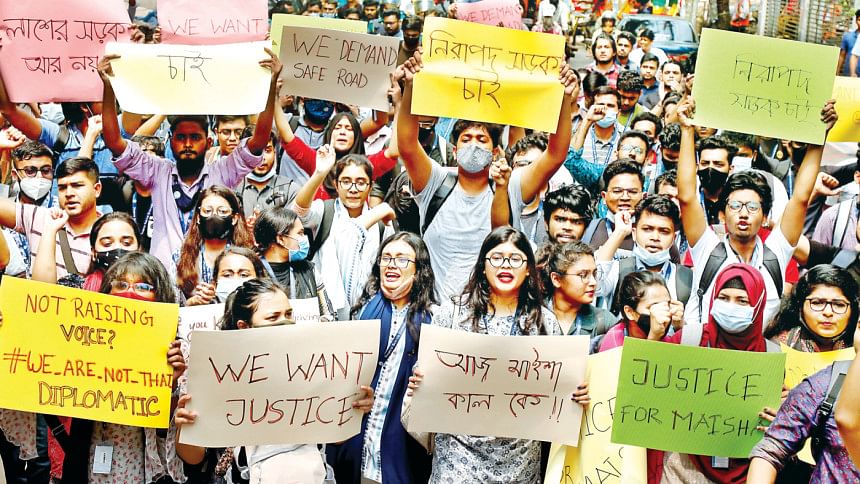 Meem's parents dreamed of seeing their daughter achieve so much: finish her bachelor's, go abroad for further studies, all the best things. And she was right on track to make her parents proud.
But they never imagined that she would leave the world so early, that too in such a tragic way.
After losing their adored daughter, parents of North South University (NSU) student Maisha Momotaz Meem, are now full of anguish.
Meem's demise has cast a shadow of grief over Mouchak of Gazipur's Kailakoir, her village home. Her relatives and neighbours were trying their best to comfort her father Nur Mohammad Mamun and mother Asima Begum.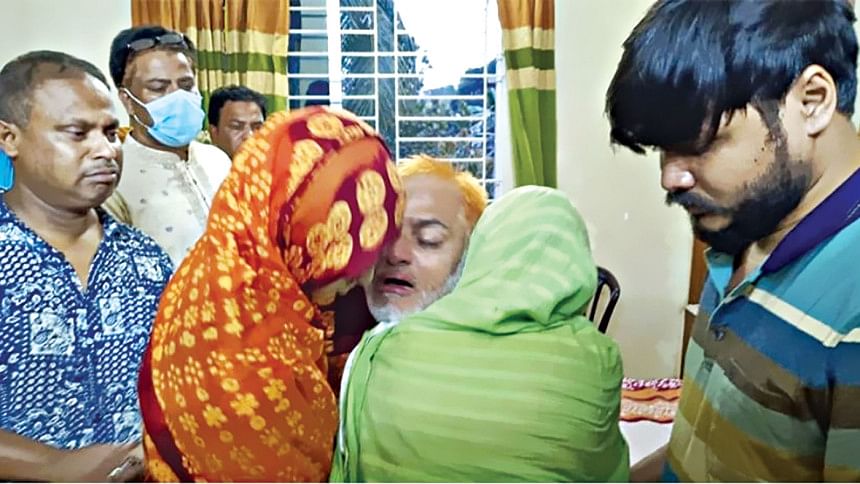 "Maa, I dreamed of seeing you become successful. We never imagined you'd leave us like this. I want that dream to come true. Please, come back," said Nur Mohammad, with agony in his voice.
"You bring my Meem back. Maa, where did you go?" he kept asking.
Maisha Momotaz Meem (22) was killed in a hit-and-run by a covered van on the capital's Kuril Flyover on Friday morning, when she was going to NSU on her scooter.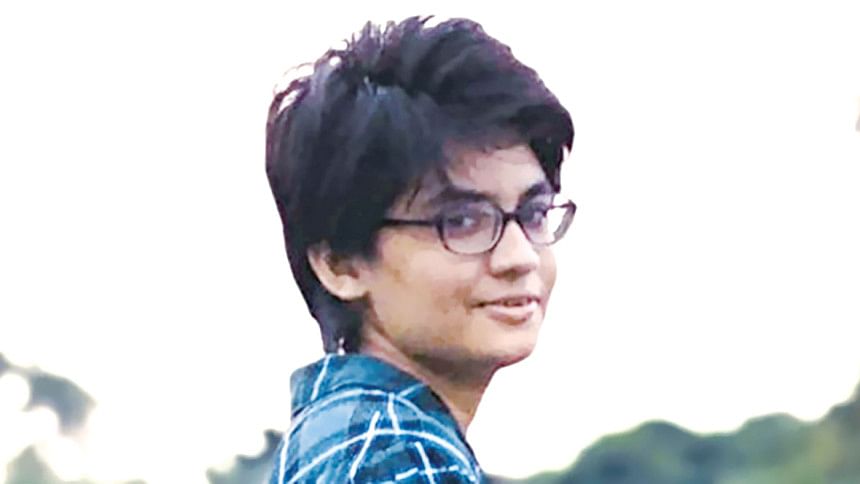 The parents said they never want anyone else to die in a road crash, like Meem did.
Meem was the eldest among two siblings. She passed SSC and HSC from Mouchak Ideal Public School and College in Kaliakoir, founded by her father. She then joined NSU's English department.
On hearing the news, her teachers, classmates and neighbours rushed to her village home. Relatives broke down in tears after her body was taken to Mouchak.
Meanwhile, a video of the accident has spread on social media.
In the video, Meem was driving a scooter on one side of the flyover. At that moment, a large covered van hit the scooter from behind and then ran her over. The driver or helper peeked out of the van to see the scene and then just left.
Hours after the incident, police detained two persons, including van driver Saiful Islam and one Moshiur Rahman, from Chattogram's EPZ area on Friday night.
"Driver Saiful had a licence to drive light vehicles, but he was behind the wheels of a heavy one," Iftekhairul Islam, additional deputy commissioner (Cantonment zone) of Dhaka Metropolitan Police, told The Daily Star.
Moshiur, representative of the company that owns the van's goods, was in the vehicle during the accident.
During primary interrogation, the driver claimed that he honked as he passed Meem's scooter, but she lost control and came in front of the van.
A case was in process of being filed till yesterday evening.
Meanwhile, a group of NSU students organised a protest rally yesterday in front of Bashundhara Gate, demanding the accused be brought to justice through speedy trial. Police, however, did not allow them to occupy the main road.
Terming the death a murder, they demanded Tk 1 crore compensation for the family.
The students raised an eight-point demand and gave a 24-hour ultimatum to fulfil it. If the demand is not met, they would organise a protest again, said Kawsar Habib, one of the students.