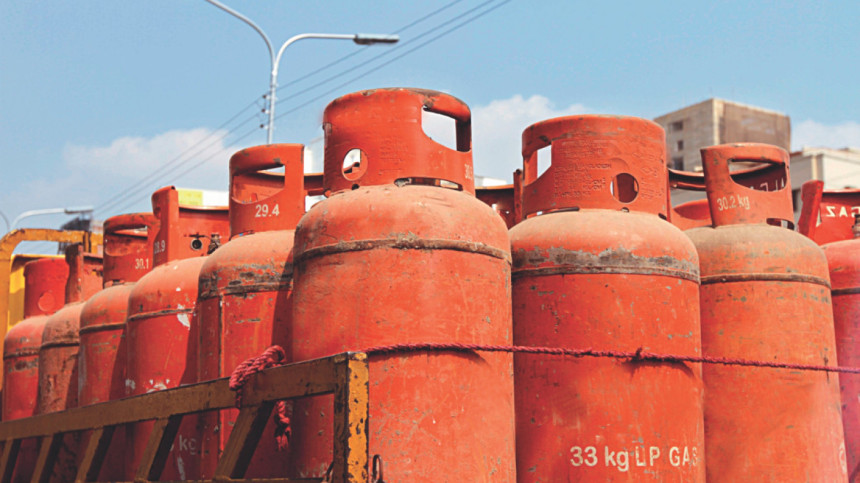 A 12-kg cylinder of liquefied petroleum gas (LPG) will now cost Tk 85 less at Tk 1,228 from private operators after the Bangladesh Energy Regulatory Commission yesterday adjusted the price in line with the international market.
Saudi Arabia, the main source for the key LPG ingredients propane and butane, has lowered the contract prices for December.
The CP for propane has been set at $795 per metric tonne (MT), and for butane at $750 per MT, down from $870 and $830 respectively in November.
The slash in price, which is the highest since April when BERC started fixing the retail price of the fuel, comes after a series of hikes.  In the past eight months, the retail price of LPG has been raised five times.
The 12 kg cylinder is the most common form for marketing the fuel, which has progressively become the fuel of choice for cooking by the poor and the middle-class and running vehicles.
For LPG cylinders of other volumes, every kg would cost Tk 102.3, down from Tk 109.4 last month.
However, the price of a 12.5 kg cylinder from the state-owned Bangladesh Petroleum Corporation would remain unchanged at Tk 591.
The 27 private operators meet 98 percent of the country's demand for 11 lakh tonnes of LPG.
The price of LPG used in cars, commonly known as "autogas", has decreased to Tk 57.2 per litre at the retail level, including value-added tax and taxes, down from Tk 61.2 per litre last month.