Local seeds for local needs
Female farmers of Khulna exchange varieties at fair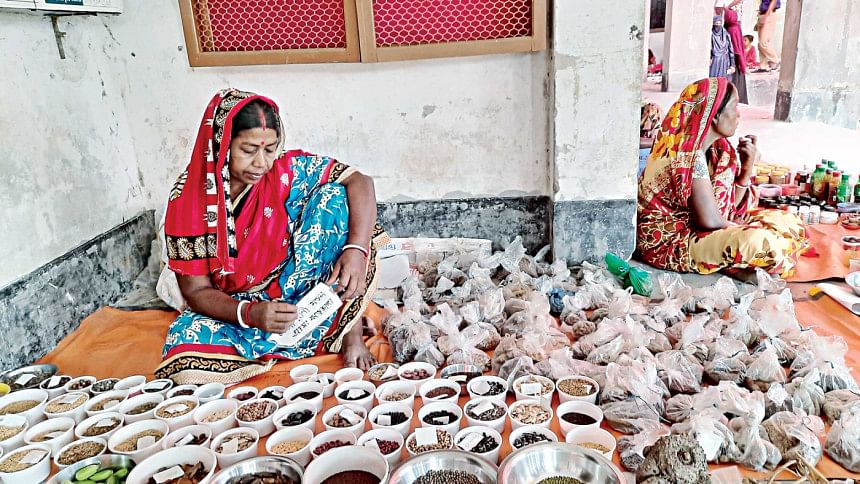 Seeds of local varieties -- preserved by families for generations -- have been the most adaptive way of cultivation for the distinct climatic conditions of the country's coastal areas.
In what is considered a yearly tradition, female farmers exchange the seeds at the "seed fair", organised every year by the local farmers' organisation and non-government development organisation LoCos at Gangarampur Union Parishad ground in Khulna's Batiaghata upazila.
In yesterday's edition, local women displayed, exchanged and distributed over 200 varieties of seeds in the fair's 53 stalls.
One of them was Laxmi Rani Mondal (53), of Gangarampur union's Jharvanga village. She has been preserving seeds for 16 years. Her motivation came from not being able to cultivate on vast lands owned by her husband for lack of quality seeds.
Laxmi has preserved around 248 local seeds so far. "Over 300 women in the locality preserve local seeds, just like me," she informed.
Laxmi is not the only example of beneficiaries from the practice. Shamoli Sarker of the same village became self-reliant by selling seeds and vegetables. She has been able to preserve 78 varieties of local seeds and sow them in her cultivable land.
Robiul Islam, upazila DAE officer of Batiaghata,  told this correspondent, "Preserving seeds helps people carry out organic farming."