Let us know of any homeless person
PM urges people, promises homes for all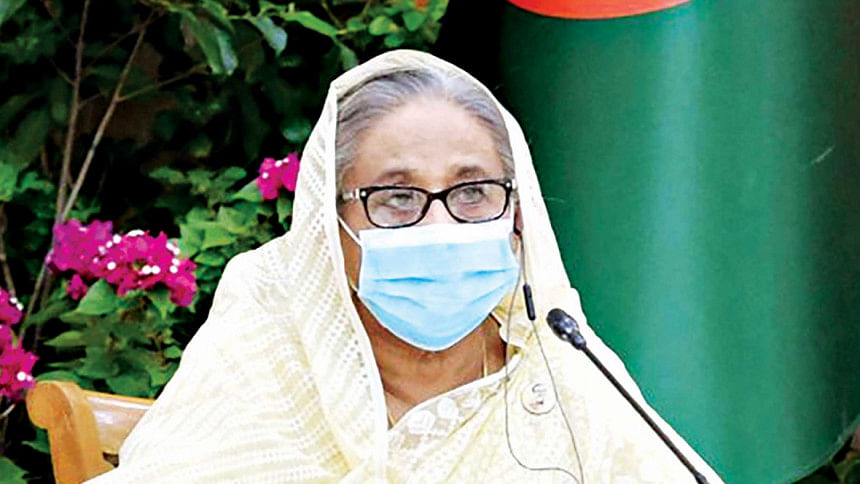 Prime Minister Sheikh Hasina yesterday said her government would ensure home for every countryman.
"If anyone has information about landless or homeless, please let us know. Irrespective of their political affiliation and views, we will provide house to them," she said.
The premier said there might be differences in views and opinion, but "the country is ours. I am the Prime Minister of Bangladesh and that means I am responsible to every citizen of Bangladesh."
She made the remarks at the handing over ceremony of 26,229 more houses to homeless people of five places in five districts under the third phase of Ashrayan-2 Project, connecting virtually from the Gono Bhaban.
"I want every person to spend a decent life. That is my father's lesson. That's why I want to provide a good livelihood to every citizen," she continued.
The prime minister also declared Magura and Panchagarh as landless-and-homeless free districts at the function.
Apart from the nine upazilas of Magura and Panchagarh districts, she simultaneously announced another 43 upazilas of different districts across the country as landless-and-homeless free.
Sheikh Hasina said, "We're extremely happy that due to our initiative we've attained a primary success that all nine upazilas of two districts became fully free from landless and homeless people."
The 43 other upazilas of various districts across the country also got the same status, she said.
"This is the big achievement. I hope that all districts and upazilas of Bangladesh will be free from landless and homeless people this way," she said.
Mentioning that every people of the country will have a house and an address, she said, "Insha Allah we will be able to do that and I believe it."
The prime minister also urged the Awami League and all its affiliated organisations, all political parties, administration, law enforcement agencies and public representatives to find out landless or homeless people, if any, in their respective areas to manage houses for them.
"I am asking all . . . to provide information about any landless and homeless people so that we could give them a house and an address," she said.
At the outset of the ceremony, Asrayan Project Director Abu Saleh Mohammad Ferdous Khan made a presentation on the activities of the project.
A video documentary on Asrayan Project and homeless-and-landless people was screened.