Left unused years after construction
Two water-treatment plants could fulfil demand of Barishal city, but are not in operation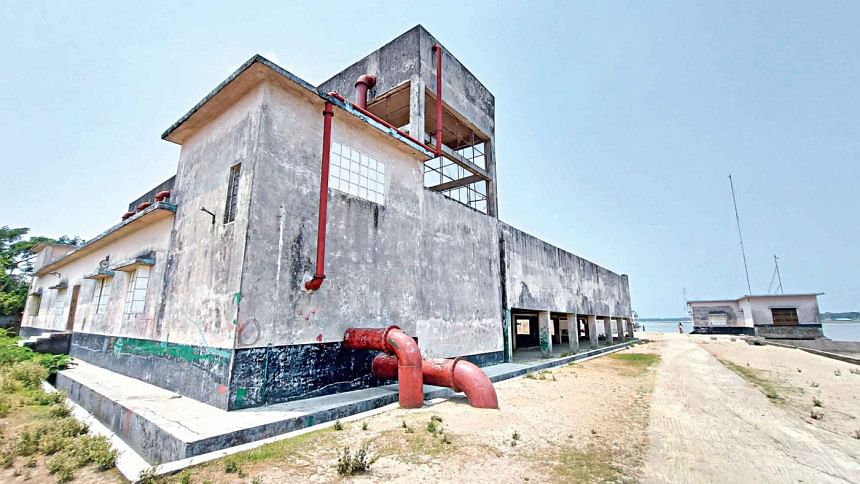 It has been three years since two constructed surface-water treatment plants were handed over to the relevant authority in Barishal, but the plants are still not operational.
Currently, only half the peak demand for water in Barishal city is being met, according to sources. If the plants were operational, residents would not have to worry about getting water.
According to Department of Public Health Engineering, Barishal, two development project proposals (DPP) for "Surface Water Treatment Plant Beltala and Rupatoli, Barishal" were prepared in 2009. But later, plans were modified, and the latest cost stood at around Tk 50 crore.
''At first, there was a long-standing problem regarding providing power supply to the plants. The power authority refused to provide the line due to arrears. Later, Barishal City Corporation [BCC] authorities delayed in receiving the two plants," said Mahnul Hossain, executive engineer at Department of Public Health Engineering, Barishal.
"First, we handed one plant over in 2018. We officially handed both over in October 2019... BCC has been overseeing the project since then," he said.
This, however, does not explain why the plants are not operational, even after being handed over. But BCC has pointed to faulty construction as the cause.
BCC Chief Executive Officer Sayed Faruque Hossain said the machinery of the two plants have been damaged, and upgrades are needed. "This is why we sent a DPP to the local government department about a year and a half ago. If the DPP is passed, the plant could easily be operated."
Sohrab Hossain Panna, assistant superintendent of BCC's water department, said, "We produce and supply 61 lakh gallons of water every day. The rest of the demand is met by underground tube-wells."
"We also supply water to slums through tankers. But we can only fulfil half of the peak demand for water -- over 1.2 crore gallons for six lakhs citizens.
If the two plants at Beltala and Rupatli were operational, the demand would be fulfilled. The storage capacity of each of the plants is 1.006 crore gallons.
Moinul Hossain, executive engineer at Department of Public Health Engineering, said construction work was completed in 2016. "I think technical problems were created because the corporation did not want to receive the plants in due time."
Meanwhile, BCC sources acknowledged that more than 5,000 customers are drawing groundwater from deep tube-wells. According to Department of Public Health, the water level has dropped by at least 25 feet.
Therefore, even some of the underground tube-wells cannot provide water in the dry season. As a result, demand for water always reaches its peak in summer.