Left behind, left uncared for
Woes of migrant workers' families mostly unaddressed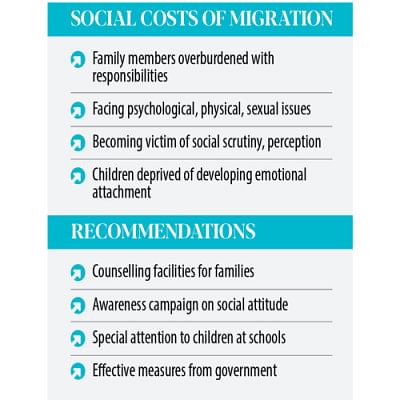 Since her husband migrated to Saudi Arabia as a worker in 2018, Kulsum Begum (not her real name) has been looking after their family back home in Tangail.
Apart from arranging food and healthcare, the 30-year-old needs to take care of the education of her ninth-grader daughter and fifth-grader son with the money her husband sends home, albeit irregularly.
"It's no easy job. I have to remain stressed all the time," said Kulsum.
What makes the mother more worried is the money -- Tk 3 lakh -- her husband borrowed from a local lender before his migration. She could not pay any instalment yet because the money she gets from her husband is not enough to run her family, let alone paying off the debt.
"Sometimes I seek support from my parents who live nearby," she said.
Like Kulsum, many left-behind family members, especially females, are facing such problems in absence of their male members, but this issue remains largely unaddressed in the government policy.
There has not been much research on the social cost of migration in Bangladesh, but a research book published in 2020 by Refugee and Migratory Movements Research Unit (RMMRU) shed some light on the issue.
Titled "Social Cost of Migration: Left-behind Children, Husbands and Wives in Bangladesh", the book said although economic gains of migration are enjoyed by the nation at large as well as by the migrant households as a unit, the "social costs of migration" are mostly borne by the individual household members.
As perceived social cost of migration, about 70 percent of left-behind wives expressed their agony of staying without husbands, while 67 percent are overburdened with additional responsibilities, said the book.
Thirty-five percent go through psychological stress and regularly encounter social perception that they are "leading a comfortable life by spending their husbands' hard-earned money", it said.
The book is based on research conducted in 2014, 2017 and 2018. The study included 831 left-behind wives and 1,784 children in different migration-prone districts.
At least 45 percent wives dealt with psychological, physical or sexual issues, while 30 percent of them, being single mothers, are overburdened with problems of raising their children.
About 40 percent wives complained about "social scrutiny" as they are often "judged" by their in-laws, neighbours and others.
RMMRU founding chair Prof Tasneem Siddiqui, one of the authors of the book, said there has not been government action in terms of welfare. Instead, families are coping by themselves.
Their study shows that about 15 percent of left-behind children fail to cope with the situation in absence of their parents. "Such children need to be under special attention at school," she said.
Contacted recently, Shoaib Ahmad Khan, director (finance and welfare) of Wage Earners' Welfare Board, said they do not have any specific initiative to address the social cost of migration.
The issue is "important and requires further research", he said, adding that migrant welfare will widely be addressed in an upcoming project with the financial support of World Bank.