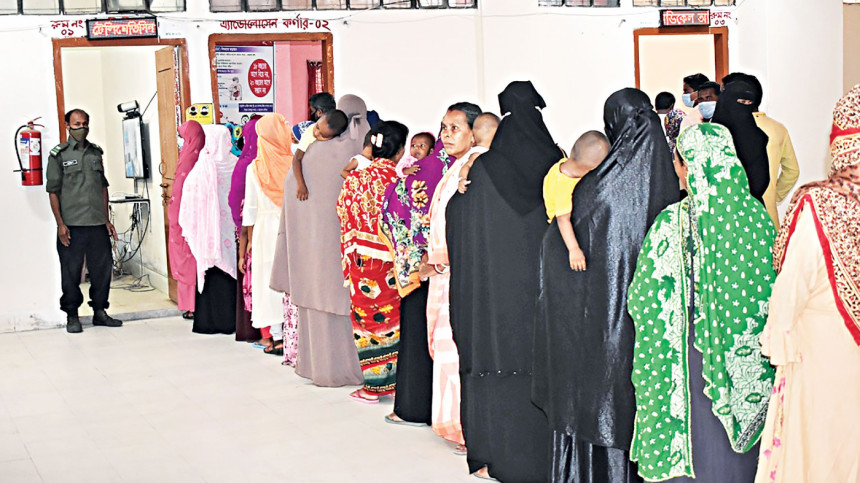 "I never thought a government hospital in a remote upazila could render the quality service I received at Domar Upazila Health Complex. I was admitted here to give birth to my first child, and I felt at home," wrote Sadia Sultana (19) of Domar municipality in the hospital's comments register on January 24.
The health complex was ranked the best upazila hospital nationwide in January and kept the first position in the Rangpur division for seven months under the index of DGHS.
The zeal of young doctors, proper management, teamwork and quality leadership made it all possible.
Tapan Kumar Roy, a residential medical officer, said, "In April last year when present UHFPO Raihan Bari joined, the hospital's position was 54th in the national ranking. But then he started to upgrade the facility."
During a recent visit to the hospital, this correspondent saw patients resting in a place surrounded by trees. All the wards were spotlessly clean. Patients said even a year ago, the operation theatre remained locked. In the labour ward, dishonest employees took extra money from patients, while X-ray and ECG machines were inoperative. Brokers actively diverted patients to private clinics. But the situation has changed completely.
Elius Hossain (50) of Jaldhaka said, " I didn't have to pay for surgery and paid the government-assigned fee for my pathological tests."
"During my first caesarean, my husband paid Tk 15,000 at a private clinic. But this time, I got free service and a new dress for my baby gifted by the complex," said Mohosina Akhtar (20) of Chandokhana village.
Medical officer Dr Abul Ala said, "About 200 patients are treated outdoor, while 80 take indoor treatment daily. People from low-income background and freedom fighters are provided with costly medicine from the outside pharmacy, which is covered by our social welfare department."
Asked about limitations, medical officer Dr Abul Ala said, "Only 16 doctors are posted in this 50-bed hospital and the lone ultra-sonogram machine went out of order."
Contacted, UHFPO Raihan Bari said, "If everyone performs their duties sincerely and utilises available facilities, we can achieve more here."
"A government hospital in the periphery can also be a model of quality health service. And this health complex is proof of that," said Civil Surgeon Zahangir Kabir.