LDC graduation a big opportunity: PM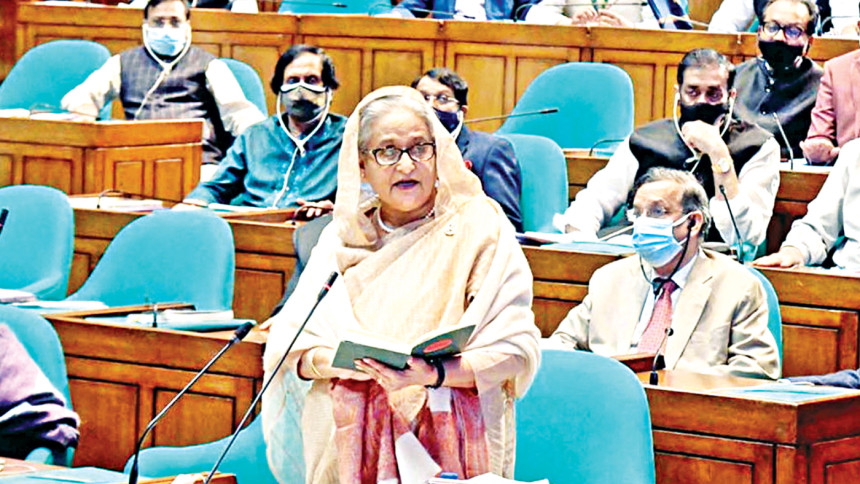 Prime Minister Sheikh Hasina yesterday told parliament that the country's graduation from the LDC category has created an opportunity to brand  Bangladesh before the whole world.
She made the remarks while delivering her winding-up speech at the 15th session of 11th parliament.
Hasina, also leader of the House, mainly focused on unanimous adoption of the resolution in the UN General Assembly (UNGA) regarding Bangladesh's graduation from the Least Developed Country category, terming it a great achievement and a "rare honour" for the country.
She said, "Graduating from the LDC category has created many opportunities for Bangladesh. I think it is another milestone in the country's journey in terms of development."
Amid thumping of desks by the treasury and opposition bench MPs, Hasina said this landmark achievement is a "rare upgradation" for Bangalees and Bangladesh on the world stage.
Describing the country as an emerging economy, she said a big market is being created here.
"We'll be able to send a message to the world about the large market being created in Bangladesh."
The final graduation is supposed to be completed in 2024, but Bangladesh has taken time till 2026 in a bid to recover from the fallouts of the Covid-19 pandemic, Hasina also said.
"We'll have to take steps to avail the facilities as a developing country and take Bangladesh forward. We are preparing to do that."
The PM said Bangladesh is overcoming all obstacles and conspiracies, and continuously moving forward.
She added that there would be many conspiracies to stop the development of the nation. "We have to move ahead by staying vigilant."
"No matter the criticism, we are working and will continue to work to change the fate of the people of Bangladesh. Bangladesh is moving forward and it will keep doing so," said Hasina, also president of ruling Awami League.
The PM said the government has been working tirelessly to implement "Vision 2041" by transforming Bangladesh into a developed and prosperous country by the year 2041.      
She said, "It has been possible as we have proceeded with a well- thought-out plan and some specific targets."
Adding that this journey has never been easy, she said, "We have had to deal with many obstacles. There has been a lot of criticism."
The prime minister said Bangladesh would have been a developing country within 10 years of independence if Bangabandhu had survived.