Last of the 'shokher hari' potters
Artisans in Rajshahi struggling to preserve this cultural symbol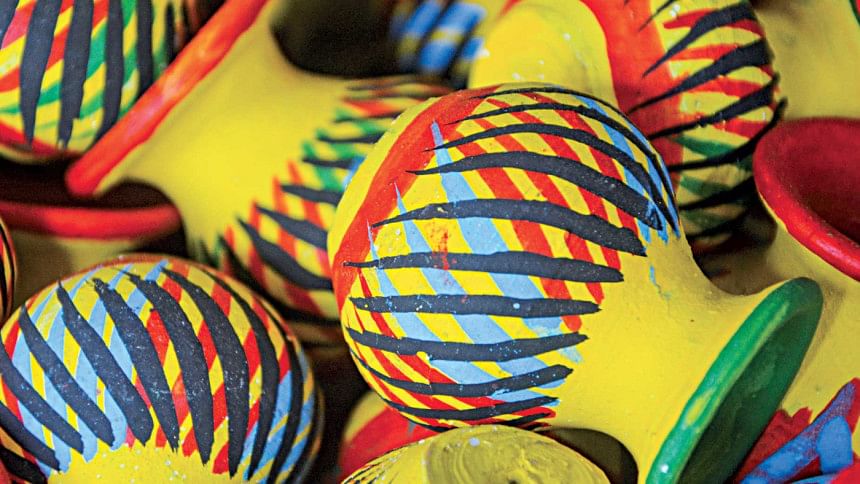 The government needs to provide them allowances and loans. Potters need to adopt modern production methods, and people need to respect these crafts to preserve their heritage.
What makes "Shokher Hari", (a decorative clay pot made in rural regions) unique is its colours and presentation. It bears testament to Bangalee craftsmanship and the utilitarian purpose of a pot -- making it one of the most unforgettable earthenwares in our region.
However, this craft, popularly made in Rajshahi, and a symbol of art and culture -- is ceasing to exist due to a lack of support.
Sushanta Kumar Paul (62), award-winning maestro of artisanal pottery from Bashantapur, Rajshahi, and his family members are considered to be the last potters in the country who have been preserving the craft.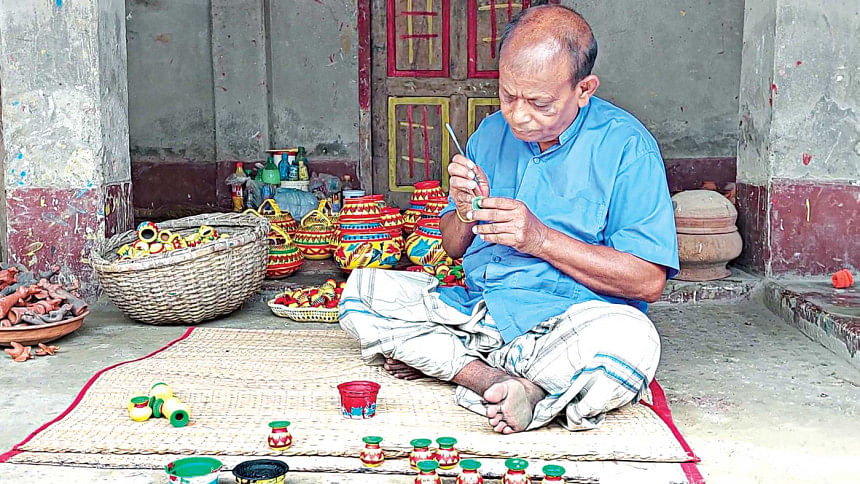 But at present, many of Paul's family members have started engaging in agriculture alongside pottery for survival.
During a recent visit to Sushanta's residence at Basantapur village in Paba upazila, this correspondent saw rooms of his house filled with newly harvested onions.
He said they never engaged in agriculture before, but began cultivating crops to survive the pandemic's financial blow. Things got so bad that he had to beg a few years ago when he needed multiple surgeries for his neurological treatment. In one of the rooms in his house, this correspondent saw one of Paul's daughters-in-law Koruna Rani Paul learning how to shape clay pots.
According to folklore experts, the history of shokher hari and other craft items like tepa putul and terracotta dates back to the 8,000-year-old Indus valley civilisation.
Researchers said lack of capital, and high profits in alternative occupations are hurting the country's pottery industries. The potters also suffer from a lack of raw materials, transportation problems, inefficient marketing systems, and acceptance in society.
Sushanta said there were around 4,500 potters in the Rajshahi region. Shokher hari was essential in the daily life of Rajshahi's citizens before.
In those times, people used these clay materials to entertain guests and use them in weddings. "Now, potters survive only by participating in the fairs during Baishakh."
"Since the pandemic, fairs aren't fetching us enough money either. How will we survive for the rest of the year?"
Paul says he taught at least 17 family members the craft, but many of them have started finding other jobs. "If they aren't properly taught, this tradition would be erased forever."
Associate Professor Abdullah Al Mamun of Rajshahi University's Department of Folklore said, "The government needs to provide them allowances and loans on eased terms. Potters need to adopt modern production methods and people need to develop respect for ancient traditions and crafts to preserve this heritage."