Labour rights violation, 'red-tapism' major barriers
EU envoy on trade between Bangladesh and Europe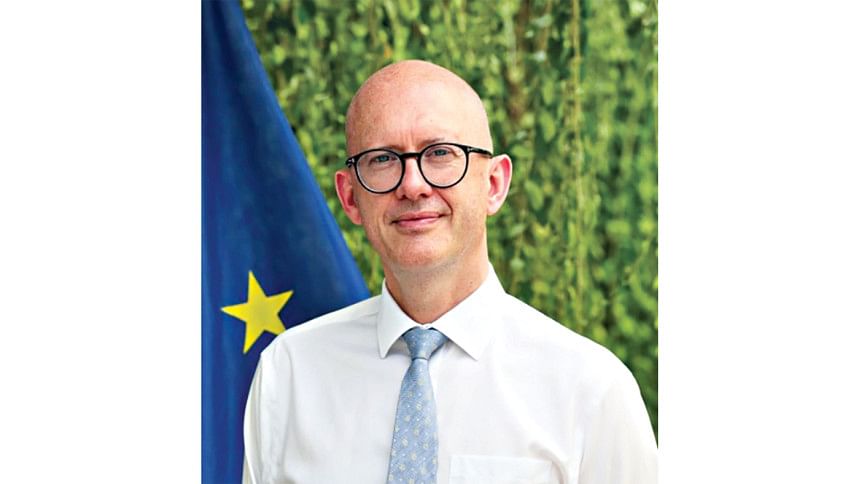 Violation of labour rights and "red-tapism" in business are the two big factors that might hamper trade between Bangladesh and Europe, said EU Ambassador Charles Whiteley yesterday, stressing on the need to improve on these fronts.
"If you have good consumer faith, good labour standards, then you won't have NGOs in Europe questioning the labour standards in the source country," he said. Besides, investors also look for good climate environment when they decide to invest.
Whiteley made these observations at a programme titled "Meet the ambassador," which was hosted by Centre for Governance Studies (CGS) in collaboration with Friedrich-Ebert-Stiftung (FES) Bangladesh at a city hotel.
He said a EU delegation during a dialogue in Bangladesh on business climate spoke of these and other issues with the authorities.
A delegation of six members of European Parliament will also be visiting Bangladesh from Sunday, see the factories and meet the authorities to understand the whole range of trade-related issues, including labour rights, environmental standards and investment.
Bangladesh's single largest destination for RMG is the EU.
Bangladesh currently gets GSP facility that provides duty and quota-free market access to the EU, but with Bangladesh graduating out of LDC, the facility will be over by 2029. Then, Bangladesh has a scope to avail another scheme, GSP Plus, but more stringent conditions will be attached to avail that. Those include labour rights, human rights, democracy and environmental compliance.
Whiteley said Bangladesh has already signed all the related UN conventions, but implementation is now the key. The country has already done well in terms of green industries.
On Bangladesh's demand of lifting western sanctions, he said he understands the concerns, but the fact is that the six rounds of sanctions imposed by the EU do not apply on food imports by Bangladesh from Russia.
"We did not, in anyway, hamper wheat being imported under sanction regime...," he said, adding that there may be other reasons being faced by the banking system and supply chain.
"We see misleading information that food crisis or high prices are due to sanctions," he said.
He said the biggest embargo on the 20 million tonnes of grains export by Russia is to blame for rising cost of food.
He said the fact that Russia is invading Ukraine and killing thousands of people is unthinkable today. There is now an enhanced awareness of the need to defend oneself among the nations of Europe; for this reason, even historically neutral nations are opting to join Nato.
EU also considers China a strategic partner in Asia. However, the EU will strictly oppose China if it hampers freedom of navigation in the South China Sea. And lastly, the EU considers Bangladesh pivotal in providing stability in the South Asia region, he said.
Considering that Bangladesh is a key country in the Indo-Pacific region, Whiteley said the EU is eager to work with Bangladesh in maritime and security aspects.
Asked about the foreign diplomats' recent meetings with the Election Commission and BNP, he said they meet to understand the political situation, and even the Bangladesh ambassadors abroad do the same.
Asked if the EU is sending election monitoring delegation to the next parliamentary election, he said there is nothing decided yet as it is still 18 months away.