Killing canal to expand road
Karnaphuli tunnel authorities fill part of waterway for roadwork, leading to waterlogging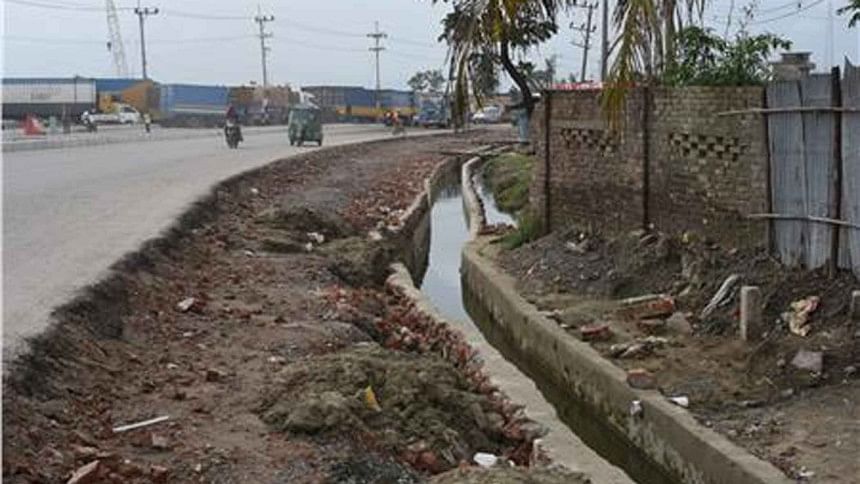 To expand a nearby road, the authorities of Karnaphuli tunnel have filled up a large part of "Golden Beach" canal in Chattogram city's Patenga area. The canal now acts as a narrow drain, which has led to waterlogging.
Despite objections from Chattogram City Corporation (CCC), which looks after the canal, the tunnel authorities went on with the plan, they alleged.
Ashiqul Islam, executive engineer of CCC, said, "We wrote to the tunnel authorities last year, asking them not to fill the canal. But they have gradually filled it up despite our objection."
During a recent visit to Patenga, this correspondent found the 60-foot-wide canal has only four feet of space now. The narrowing has resulted in waterlogging. This is posing a serious threat to livelihoods and the environment.
The canal, about 2.5 kilometres long, starts from the Bay of Bengal and flows into Karnaphuli river, beside the tunnel.
In June, heavy rain caused many houses in Patenga to get inundated, as water could not flow through the canal. CCC then held a coordination meeting to resolve this.
Shahadat Hossain Rubel, a resident of the area, said due to the situation, around a hundred houses were flooded last month. "We've already asked the local councillor to dig up the canal."
Saleh Ahmed Chowdhury, councillor of the South Patenga ward, said the canal is crucial for drainage in the area. "But the tunnel authorities have not only changed the canal's course but also filled up parts of the waterway."
According to Natural Water Reservoir Conservation Act 2000, all canals and natural water bodies must be preserved by the state.
"Filling up any canal is a punishable offence under the existing law, and action will be taken against those who filled the canal without permission," Mufidul Alam, director of Department of Environment's Chattogram region, told The Daily Star recently.
Rafiqul Islam, chief engineer of CCC, said in a meeting that tunnel authorities have illegally filled a part of the canal and turned it into a drain. Despite objections, they did not stop filling the canal.
Due to this, new areas are being flooded in Patenga. If the canal is not restored, waterlogging cannot be solved, he added. "We have written to tunnel authorities to restore the canal to its original form. But they did not respond to our letter."
Despite the original dimensions of the canal being in Karnaphuli Tunnel's (also known as Bangabandhu tunnel) master-plan, tunnel authorities filled a part of it to widen the nearby road.
Abul Kalam Azad, deputy project director of Karnaphuli tunnel, told this newspaper, "We have made drains for the movement of water to avoid waterlogging during monsoon."
He said, "We have signed an agreement with Chattogram Development Authority [CDA] to re-dig the canal. CDA will re-excavate it after completion of road work."