Keen on taking more Bangladeshi peacekeepers
UN officials tell army chief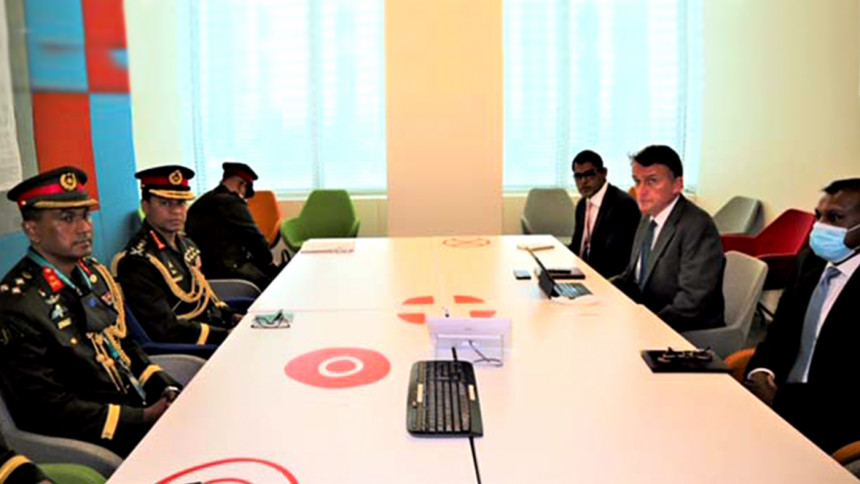 Bangladesh Army Chief, General SM Shafiuddin Ahmed, has held bilateral meetings with several senior officials of the UN Headquarters on various issues of mutual interest, including peacekeeping operations.
During his visit to the UN Headquarters in New York on April 25 and 26, he met with Gilles Michaud, under-secretary-general of the UN Department of Security and Safety; Maj Gen Maureen O'Brien, acting military adviser; Mohammed Khaled Khiari, assistant secretary-general (ASG), Department of Political and Peace Building Affairs; Christian Saunders, ASG, Department of Operational Support; and Police Adviser Luis Ribeiro Carrilho.
Maj Gen Maureen expressed interest in recruiting more peacekeepers from Bangladesh in the future, according to a press release from the Permanent Mission of Bangladesh to the UN.
During the talks, the acting military adviser and the ASG of the Peace Building Affairs requested the army chief to deploy an aviation contingent to the UN peacekeeping mission as soon as possible.
The army chief agreed in principle to the request.
He proposed to replace the long-used weapons and equipment in the Bangladeshi contingents of the peacekeeping mission with new weapons and equipment sourced from Bangladesh, to which the officials concerned readily agreed.