Justice elusive, violence not
Almost all sex workers fall victim to violence, finds study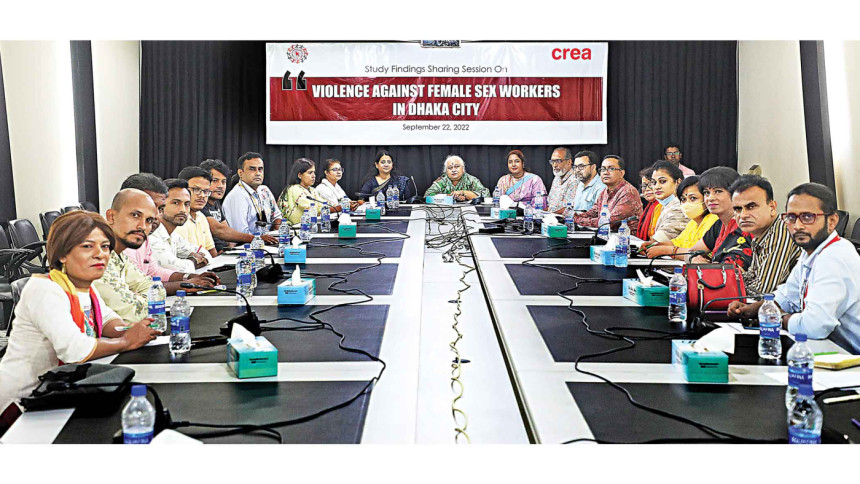 Almost all female sex workers in Dhaka become victims of physical violence by their clients at least once in their lives, found a recent study by Sex Workers Network of Bangladesh.
The study was conducted by interviewing 40 sex workers based in eight different areas of the capital, all of whom have been victims of violence.
Of them, 27 female sex workers were impregnated by their clients and 26 had to get an abortion.
The study also explored the negative impact the pandemic has had on the lives and livelihoods of sex workers, most of whom borrowed money with high interest to survive the period, which they are repaying till now.
Speaking at the programme, lawmaker Aroma Dutta said, "We have caused harm to sex workers by closing down the brothels."
"Now they are unprotected and more prone to physical violence outside," Dutta added.
"We should also think about the mental health of sex workers. Steps have been taken by many private and government organisations but more research is required on the matter," said Dr Lima Rahman of ActionAid Bangladesh.
"We will not be able to stop violence towards the sex workers until we make them aware of their rights," said Nurunnahar Begum, senior officer of ActionAid Bangladesh. "Their rights are ensured by the constitution as citizens of the country," she added. 
At the event, speakers also said that making any recommendation based on a survey involving 40 female sex workers might be difficult but it is a good step forward.
The sex workers said society never accepts them because of their profession.
"We have had abused hurled towards us, our parents and our families. Even our children are not spared from these abuses. We are often threatened with rape, abortion and kidnapping," they mentioned during their interviews.
All 40 interviewees said they have been harassed by police, who extort them and threaten to file false cases against them if they do not pay them.
"We have been detained on multiple occasions by policemen looking to extort us," they mentioned.
In the study, Sex Workers Network of Bangladesh made some recommendations, including orientation programmes on their rights and digital literacy, establishing day-care centres or shelter homes for the children of the female sex workers
They also recommended establishing special helplines that could be run by the network or any other non-government organisations.
A dedicated special helpline can coordinate with the government helpline (999) and assist victims to get support in case of rights violations, as per their recommendations.
The network said they can also develop an advocacy framework to reduce violence against female sex workers and improve the health and social well-being of their community.