Joy of Eid nowhere for victims of river erosion in Sirajganj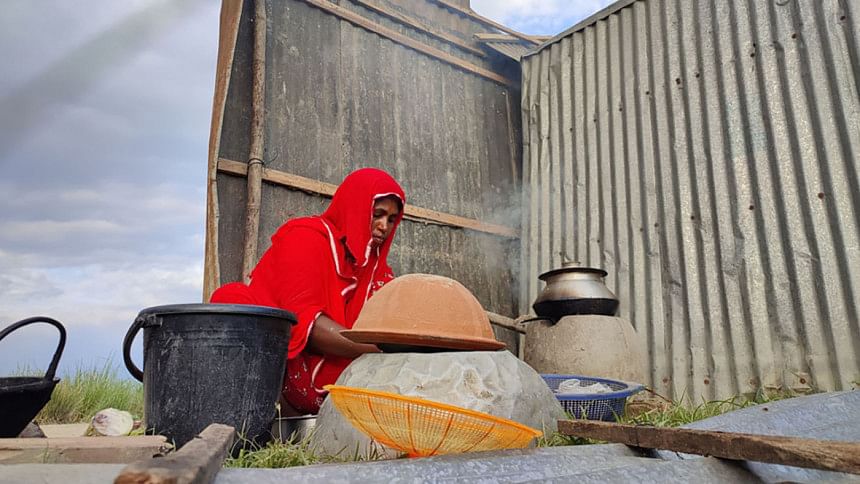 At a time when people across the country are preparing for Eid-ul-Azha celebrations, victims of Jamuna River erosion in Sirajganj are struggling to survive the disaster with hardly any food to put on their plates.
"The devastating Jamuna has devoured my home, now I have taken shelter on the flood protection embankment with my family members. In last four days I did not cook anything, we are just eating little bits and pieces of whatever we could manage from locals," said Joynab Begum of Mazzan village when this correspondent visited her couple of days ago.
"We can hardly manage food for whole family twice a day. Eid brings no joy to my family amid this situation as we struggle to survive the disaster," she said.
Talking to The Daily Star, Rojina Khatun, another erosion-hit victim in the village, echoed the same.
"When my house was devoured by river, I only managed to save my children but nothing else. I had food for around six months stocked in my home but all of it went to the river. The entire house was washed away right before my eyes." Rojina said.
"I have taken shelter on the embankment along with my four children. I have nothing to cook for them and we are depending on help from others," she said.
"We have no Eid celebration this year while my children are sleeping hungry," added Rojina.
Around 13 houses in the village went completely into the river leaving nobody any chance to save anything in last one week as erosion of Jamuna River took a serious turn.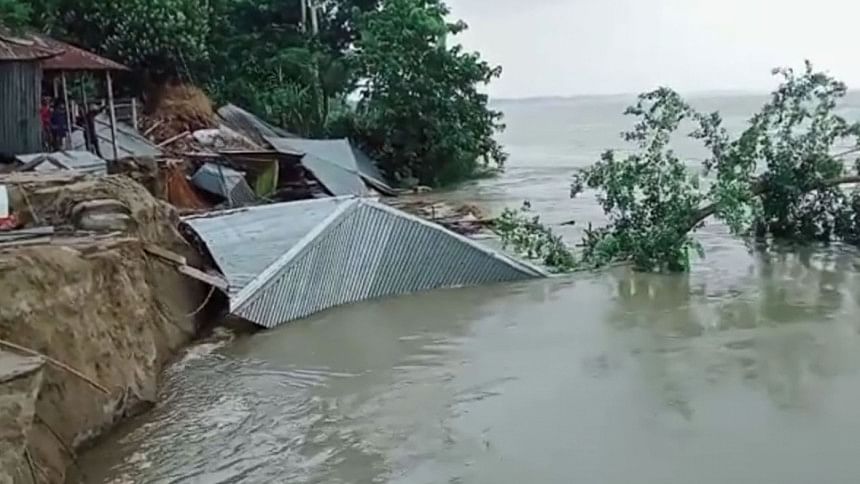 The families have taken shelter in makeshift shanties on the flood protection embankment, living in a destitute condition as found when this correspondent visited the spot.
According to Sirajganj District Administration, around 974 homesteads were devoured in Jamuna river in five upazilas of the district following flood.
"For people living on the river bank, flood water is less of a problem than erosion is. We have lost everything in river. My family members are scattered across our relatives' houses as we have no shelter. I am living alone on the embankment. We have no festivity this Eid," saod Rafikul Islam, a victim of erosion.
"After the flood will end we will kick off rehabilitation work for erosion victims," said Md Akteruzzaman, district relief and rehabilitation officer in Sirajganj. 
"We have already prepared aa list of 974 erosion victim families in the district, including 435 in Chowhali upazila alone. We have given requirement for CI sheets and fund allotment to the concerned ministry for the rehabilitation of the victims," the official added.