"Jannat-Jahannam" confusion as state minister's speech on Bangabandhu goes viral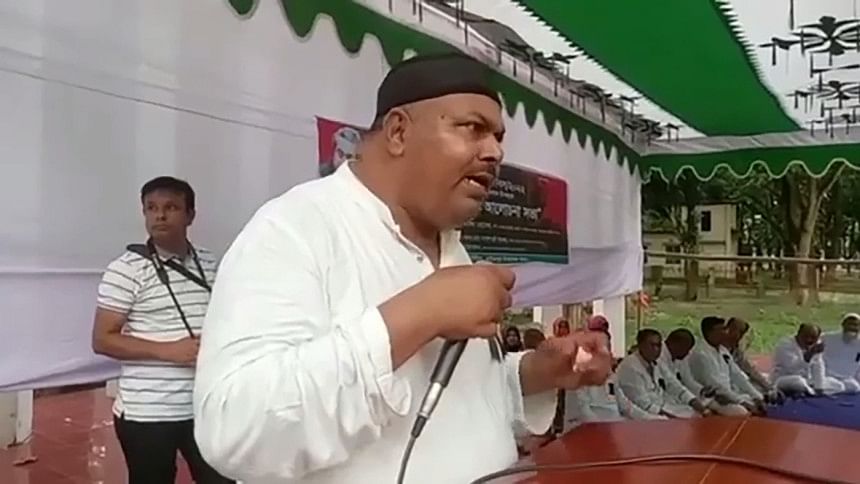 A speech that the State Minister for Primary and Mass Education Md Zakir Hossen gave on Bangabandhu at a programme in Kurigram today (August 15, 2022), went viral on social media.
During his speech as the chief guest at a programme on National Mourning Day,  Zakir while asking to pray for The Father of the Nation used the word "Jahannam" (hell), which became viral on social media.
It was a "slip of the tongue" and the state minister corrected it instantly, said Rajibpur Upazila unit AL President Abdul Hai Sarkar.
When contacted, around 8:40 pm, State Minister Zakir Hossen over his mobile phone, said he was feeling tired after participating in several events throughout the day on the occasion of the National Mourning Day.
He said he pronounced the word "Jahannam" (hell) instead of "Jannat" (heaven) and referred to it as a "slip of the tongue".
"As soon as I said Jahannam (hell), I corrected it and used the word Jannat (heaven) quickly, and then repeated the word "Jannat" a few times," the junior minister added.
Kurigram Rajibpur upazila administration and local Awami League organised the programme, marking the National Mourning Day today, reports our Lalmonirhat correspondent.
The event was broadcasted live on Facebook by AL activists and journalists. Local AL leaders and activists were embarrassed about the matter.