Jail Killing Day observed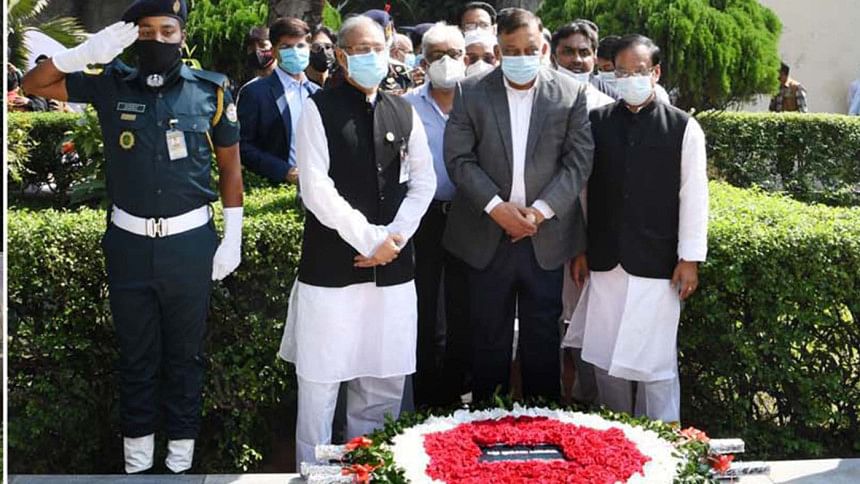 The nation solemnly commemorated the 46th anniversary of the killing of four national leaders inside the old Dhaka Central Jail yesterday.
At the same time, call for executing the convicted killers and unmasking the perpetrators behind the gruesome murders continue to grow louder.
The four Liberation War heroes Syed Nazrul Islam, acting president of Bangladesh government in exile in 1971; Tajuddin Ahmad, prime minister of the same government; Capt M Mansur Ali, finance minister; and AHM Quamruzzaman, minister for home affairs, relief and rehabilitation, were killed inside the jail on November 3, 1975 by some army officers.
To mark the day, President Abdul Hamid and Prime Minister Sheikh Hasina on Tuesday issued separate messages, reports UNB.
The president urged all to work from their respective positions to complete the unfinished works of Bangabandhu "to build a happy and prosperous Sonar Bangla".
"This should be our promise on Jail Killing Day," the president said.
In her message, the prime minister urged people of the country to build a poverty-free, happy and peaceful Bangladesh as dreamt by Bangabandhu.
Meanwhile, Awami League and its associate bodies as well as different organisations observed the day in a befitting manner through daylong programmes, reports BSS.
In the morning, AL General Secretary and Road Transport and Bridges Minister Obaidul Quader along with senior leaders placed wreaths at the portrait of Bangabandhu Sheikh Mujibur Rahman at Dhanmondi-32 and at the graves of the four leaders.
A discussion was held at AL central office on Bangabandhu Avenue with AL presidium member Matia Chowdhury in the chair.
Besides, Home Minister Asaduzzaman Khan paid homage to Bangabandhu and the four national leaders in the morning by placing wreaths at the Bangabandhu Memorial Museum and the Four National Leaders Memorial Museum at the old Central Jail.