Forex reserves enough for 6-9 months' food import: PM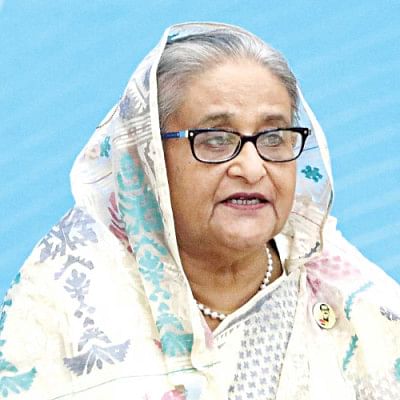 Prime Minister Sheikh Hasina yesterday said Bangladesh would be able to meet six to nine months' food import expenditures with its current forex reserves.
"We have money in our hands to import food grains and other [essentials] items for at least three months during any crisis. With our current reserve, we'll be able to import food not for only three months, but for six to nine months," she said.
The premier was addressing the 28th founding anniversary programme of Bangladesh Awami Swechchhasebak League at the capital's Krishibid Institution Bangladesh auditorium. She joined the event virtually from the Gono Bhaban.
Swechchhasebak League, an associate body and the volunteer wing of the ruling Awami League, was founded on July 27, 1994.
Hasina said despite having enough forex reserves, the government would have to take steps to grow more crops in order to save foreign currencies and hold the reserves for any emergency.
Noting that the reserve was about $3.8 billion in 2006 during the BNP's rule, the PM said her government was able to raise the figure to $48 billion from $7 billion in 2009.
She said Bangladesh had to spend huge amounts of foreign currencies from the reserve to import materials for development works, capital machinery for industries as well as Covid vaccines, testing kits and other Covid materials.
Taking a swipe at the government's critics over forex reserve and energy, Hasina, also the AL president, questioned why they don't see the development activities.
She said the government continued providing a huge subsidy, raised the per capita income of the people and has been able to retain the GDP growth.
The government also kept its promise of reaching electricity to every house, she said, adding that many developed countries, however, were now taking austerity measures over the use of energy.
"We also have to take precautionary measures so that we do not run into a great danger…. We have taken steps for limited use of electricity, but it doesn't mean that we don't have any energy or it is running out."
Mentioning that it is true that Bangladesh needs to procure diesel, Hasina said the country doesn't import petrol and octane as these are extracted as byproducts in gas production.
"We've much more petrol and octane than our demands. We can also sell these sometimes."
The AL chief said, "We have some so-called wise men who at times talk about many things. But I don't know whether they have any knowledge about many matters."
She alleged that those people want to mislead the general people talking back and forth.
Hasina said many intellectuals write on many topics and an economist wrote about the Padma Bridge construction saying that it was built unnecessarily as it would not be a profitable one.
She said the economist, in his article, questioned who would use the bridge and also raised an objection to the installation of rail tracks in it as the people of the southern region travel by launches.
"I doubt how much they know Bangladesh and I don't know whether they have ever visited the southern region."
Hasina said there is an organisation that finds everything bad. The 2007 caretaker government put something in their brain that stops them fromliking a healthy democratic trend to continue in the country, and they also don't see the country progressing.
"If an unusual government is there in the country, their values get increased. They think they are wise and they can do everything," she said.
Citing that many conspiracies continue to interrupt the progress of Bangladesh, the PM said she believes that this progress can't be halted no matter how many conspiracies are hatched.
"Bangladesh is progressing at an irresistible pace and In Sha Allah, we'll continue moving forward," she added.
Hasina asked the Swechchhasebak League leaders and activists to highlight the development activities and successes of the government before the people.
She also thanked Swechchhasebak League men for their volunteer works during the recent floods and Covid-19 vaccination campaign.
At the function, a cake was cut to celebrate the birthday of PM's son and ICT affairs adviser Sajeeb Wazed.