It may be as bad as Sidr, or worse
Experts say it depends on windspeed during landfall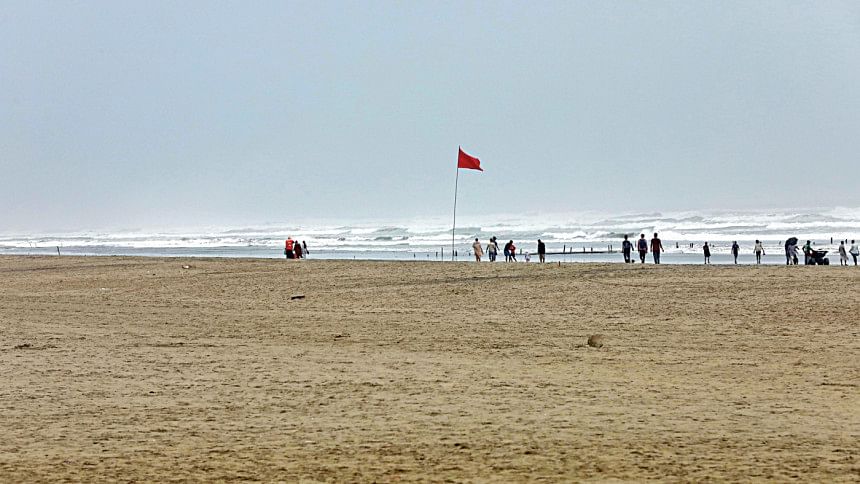 Geographical location, wind speed, and a storm surge are the features that make Cyclone Mocha different from the recent cyclones that hit Bangladesh, meteorologists say.
They said  Mocha could be as strong as Sidr, which had hit the country in November 2007. However, while Sidr was a post-monsoon cyclone, Mocha is a pre-monsoon one.
According the Bangladesh Meteorological Department (BMD), this will be the first "very severe" cyclone to hit Cox's Bazar and the North Myanmar coast in the past 30 years. They have also not predicted such a storm surge at the Saint Martin's Island in the same period of time. 
A storm surge is a coastal flood or tsunami-like phenomenon of rising water, commonly associated with low-pressure weather systems such as cyclones.
"The main differences [between Mocha and other recent cyclones in the country] are the geographical location and wind speed. The cyclone is still gaining strength but might weaken during landfall," Samarendra Karmakar, former director of the BMD, told The Daily Star yesterday.
But, it also may get stronger during landfall.
Comparing Mocha to Sidr, he, however, said that when Sidr was 1,320km away from the mainland, its windspeed was up to 215kmp/h; and, during landfall it was 223kmph.
"So, this cyclone [Mocha] may get stronger while heading towards the mainland," he said, adding that Saint Martin's Island would be the worst hit area.
"The cyclone will sweep every thing out when crossing the island."
Weather officials and experts said Mocha is getting strong as low pressure was not created in the Bay this year, and it may badly impact the coastal districts of Chattogram and Barishal.
"Cyclone Mocha's route is different from the usual routes of cyclones. So Cox's Bazar and St Martin's would endure massive damages due to the strong wind speed and storm surge," said Monowar Hossain, a meteorologist of BMD.
Cyclone Sidr had made landfall on the Khulna-Barishal coast on November 15, 2007, while cyclone Aila had made landfall on May 25, 2009, on the West-Bengal and Khulna coast with a maximum windspeed of 120kmp/h.
Mostofa Kamal Palash, a weather and climate researcher at the University of Saskatchewan in Canada, said Mocha is going to be the first cyclonic storm with an expected sustained windspeed close to 200kmph that would make landfall in Saint Martin's Island.
"Cyclone Mocha has the potential to completely inundate the whole of Saint Martin's Island with a storm surge around 15-20 feet high in the sea. It is going to be the first such cyclone on the island. We don't really know what might happen there."
Experts also said that compared to Sidr and Aila, Mocha is to make a landfall in a lesser populated area. However, the entire population, most of which is made of Rohingyas living in the Ukhiya and Teknaf refugee camps, is at severe risk.
ASM Maksud Kamal, professor of disaster science and climate resilience at Dhaka University, said, "Cyclones Sidr and Aila made landfall on the Khulna coast, where the Sundarbans gave natural protection. But in the area where Mocha will make its landfall, there is no such protection.
"Landslides would be another huge problem, which may occur during the cyclonic event and even after."
He added that when Sidr had made landfall, there were not enough shelters or volunteers in the southwestern part of the country as the region was considered relatively free from large-scale disasters.
"In the Chattogram region, there are a good number of cyclone shelters and the preparedness is adequate, but the problem will be landslides. Also, as there is a lot of economic activity there, losses will be prominent after Mocha."