Int'l Day of the World's Indigenous Peoples: Under attack, time and again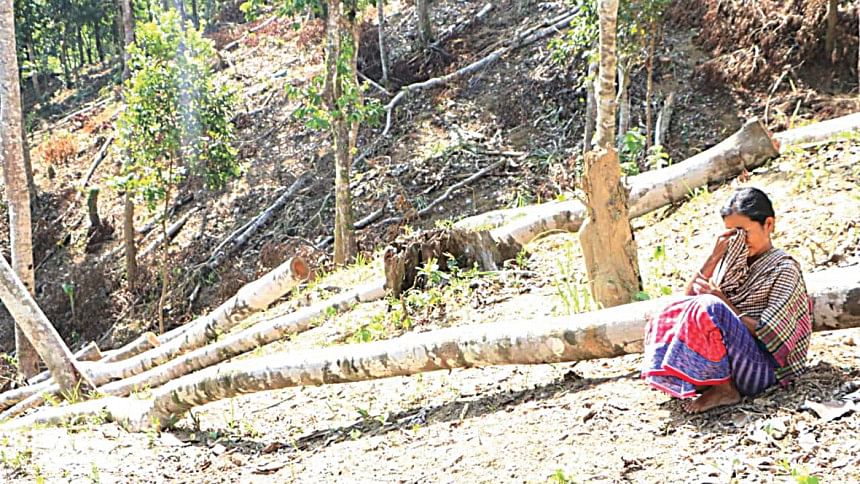 Centenarian Sami Lakachiang is considered the oldest person in Kakrachhara Punji, an indigenous village located in Moulvibazar's Kulaura upazila.
Though nearing the end of her life, Lakachiang is still not free from the fear of eviction from her ancestral land. 
Like Lakachiang, hundreds of indigenous people of around 90 punjis (villages) in Sylhet division -- mainly belonging to the Khasi and Garo communities -- face repeated attacks on their land and livelihoods.
The indigenous people in the punjis mainly make a living from cultivating betel leaf and certain types of fruits. But their traditional livelihood has faced multiple attacks by land grabbers in the last few years.
The grabbers destroyed betel leaf gardens, cut down fruit trees, and occupied their lands.
The communities remain under threat of eviction even when the International Day of the World's Indigenous Peoples is observed today with the slogan "Leaving No One Behind: Indigenous peoples and the call for a new social contract".
Kakrachhara Punji is adjacent to Rehana Tea Garden and the indigenous people alleged that the tea garden authorities cut down several hundred trees, destroyed crematoriums, and occupied vast areas of land in the punji over the last few years.
John Paul Chichhim, the punji's headman, said, "I had around 150 acres of land even in 2003. Now I have only 60 acres and the rest have been occupied by outsiders."
Mintu Rema, another resident of the punji, said he cultivated betel leaf trees on around two acres of land. "But the tea garden's men destroyed all of my betel leaf, cutting down many trees in December last year," he alleged.
Contacted, tea garden manager AK Azad denied the allegations and said they had only cut trees on the land owned by the tea garden authorities.
During a recent visit to the punji, the Sylhet divisional coordinator of Bangladesh Environmental Lawyers Association (Bela), advocate Shah Shaheda Akhter observed the number of indigenous families in the punji has come down to 17 from 47 around 20 years ago.
Grinal Rangdi, the headman of Shaheb Tila punji, located in Moulvibazar's Kulaura upazila, said his betel leaf garden came under attack by outsiders twice this year.
"Some outsiders, along with local forest officer Zahirul Islam, forcibly entered my betel leaf garden on April 13. They destroyed around 150 betel trees and cut down 25 other large trees," he said.
"Then, some outsiders came to my gardens on May 15 and destroyed around 1,000 betel trees."
Contacted, Zahirul Islam, a local forest beat officer, denied the allegation, claiming he was not involved in any such incident.
A similar attack took place at Agarpunji in Moulvibazar's Barlekha upazila on the night of May 30.
Around 1,000 betel trees were destroyed that night, said the punji's headman Sukhman Anse, adding that the victims incurred a loss of around Tk 8 lakh.
Some 48 indigenous families live in Agarpunji and all of them depend on betel leaf cultivation for their livelihoods.
Betel gardens in Bonakhola Punji of Barlekha upazila were also attacked, and occupied, that same month.
Headwoman Nara Dhar alleged that outsiders equipped with sharp weapons attacked their betel gardens on May 26, occupying three gardens and setting up a temporary house.
However, the local administration later drove away the outsiders and recovered the Khasi community's gardens, as reported earlier by The Daily Star.
Recently, a 10-member delegation of a citizens' platform visited Agarpunji, Bonakhola, and Kakrachhara punjis and demanded effective measures by the government to end such intimidation and eviction of indigenous people.
Writer and researcher Pavel Partha, and a member of the delegation, said these minority groups are able to balance the environment they live in for the state free of cost, and thus these pieces of land should be under their care.
"If their management is recognised, the environment will be better and the people can live in peace," he added.
Robayet Ferdous, a journalism professor at the University of Dhaka and a member of the delegation, opined that the government should formulate a separate policy for the protection of punji people.
Indigenous communities living in the punjis are struggling hard for survival as they are facing repeated attacks by outsiders, said Father Joseph Gomes OMI, coordinator of the Indigenous Environment Movement of Bangladesh Poribesh Andolon (Bapa) in Sylhet division.
Bangladesh Adivasi Forum central committee General Secretary Sanjeeb Drong said such violence against punji people has been going on for years. "But the problem is yet to be resolved."
Contacted, Moulvibazar Deputy Commissioner Mir Nahid Ahsan said necessary legal measures will be taken to ensure the security of punji people and their property.