Inefficiency in road renovation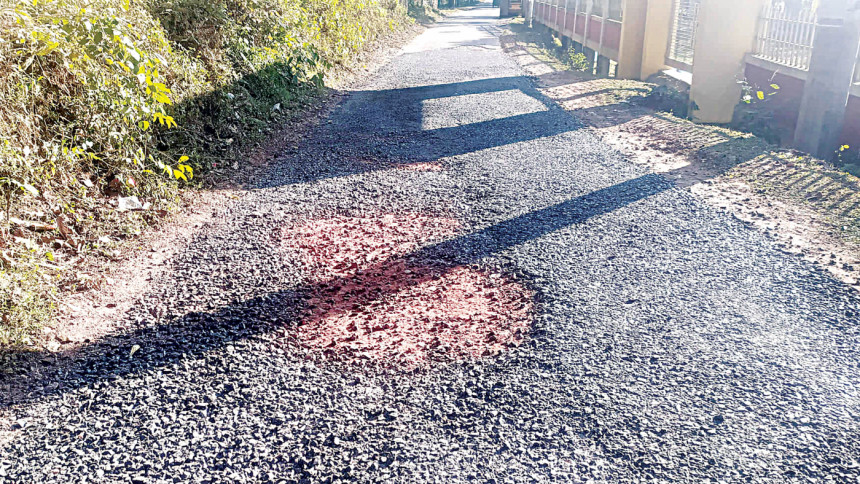 Carpeting got damaged of a paved road stretching from Bijaya of Joychandi union in Kulaura upazila to Kapnapahar Road of Juri upazila even before the completion of the work.
Locals stopped the work alleging the use of substandard materials in the renovation work.
Locals Sirajul Islam and MI Murshed said works on the road started just days ago. Due to use of low-quality materials, part of the carpeting is being rubbed off.
According to Moulvibazar Roads and Highways (RHD) office, the length of the road from Gazipur-Vijaya-Clevedon in Kulaura to Kapnapahar in Juri upazila is 15-km. The road remained in a battered condition with big potholes for long.
Contractors KamruzzamanShyamal and Akbar Ali were given the work order for repairing 1400 metres of the 15-km road at a cost of around Tk 45 lakh. Work started on February 8, and is expected to be completed within a month.
Abdul Ahad said the potholes of the road were being filled with low-quality bitumen.
Local residents Abdul Gaffar and Enamul Islam said, "We informed the men employed by the contractor. But they didn't pay heed to our words and continued to work with sheer negligence."
"So, we got upset and told the workers not to dump the mixture of stones and bitumen on the road. Later, the contractor's men stopped the work and took away the equipment," they said.
Asked about this, Kamruzzaman Shyamal, contractor of the work, said the work was stopped due to the objections of the locals.
Roads and Highways Department Moulvibazar office executive engineer Zia Uddin said the engineer in charge has given me a report about the work. The work has gone bad due to the mistakes of inexperienced workers in engineering work. No leniency will be shown on the quality of work.
"If the work is poor quality, the contractor is bound to do the work again. The contractor has been strictly instructed to do the work properly," he said.