Indo-Bangladesh Transshipment: Execution proving tricky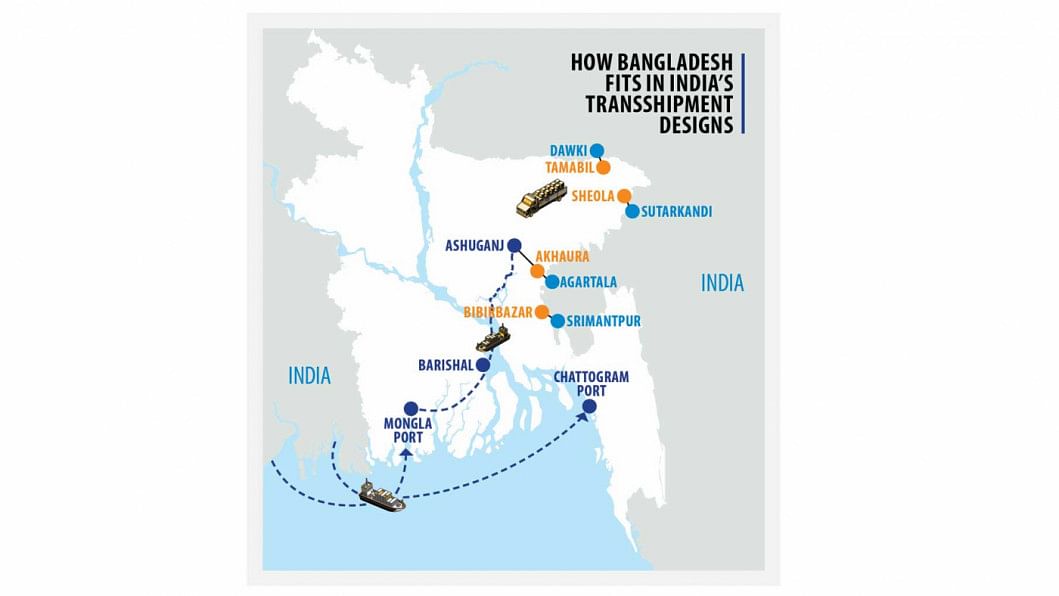 The much-talked-about transshipment facility for Indian goods to its landlocked northeastern states using Bangladesh's two seaports and inland waterways, roads and rail network has failed to take off in a big way due to the absence of proper infrastructure and awareness.
Transshipment is the shipment of goods or containers to an intermediate destination, then to another destination.
Until 1965, cargo originating from India's North Eastern Region (NER) -- which was connected to the rest of the country and the outside world largely through present-day Bangladesh before 1947 -- transited through rail and river routes to Chattogram and Kolkata ports.
After that, the arrangement was suspended. In 2009, soon after the Awami League government came to power, India sought to revive the route by way of transshipment facilities from Bangladesh for time and cost-saving reasons.
For instance, trucks from Kolkata travel about 1,600 kilometres to reach Agartala in Tripura, one of the seven NER states. The distance through Bangladesh would be about 800 km.
India's demand sparked a heated debate in Bangladesh. But Bangladesh eventually relented.
In 2015, the two countries, which share the fifth longest border in the world spanning 4,096 km, inked an initial transshipment deal involving the use of Bangladesh's four riverways, followed by a detailed agreement in 2018 involving the two sea ports.
Bangladesh and Indian officials subsequently developed a standard operating procedure (SoP) for its execution.
According to the SOP, goods reaching Chattogram and Mongla seaports would be carried by four road, rail and water routes: to Agartala (Tripura) via Akhaura; to Dawki (Meghalaya) via Tamabil; to Sutarkandi (Assam) via Sheola; and to Srimantpur (Tripura) via Bibirbazar.
But the utilisation of the transshipment facilities remains woefully low because of the absence of: a proper river port, wider roads and awareness among Indian business people.
For instance, the transshipment route from Kolkata to Agartala via Ashuganj (waterways) and Akhaura (by road) has been operational since 2016. To date, only 17 cargo vessels carrying 23,377 tonnes of goods have been transported through the route, yielding Bangladesh Tk 35 lakh in transit fees, according to shipping ministry data.
The trial runs for the use of the Chattogram and Mongla ports, whose deal was signed in 2018, began only in July last year.
As part of the four planned trial runs, a Bangladeshi vessel carrying one Indian transit container loaded with 25 tonnes of TMT bar is expected to arrive at Chattogram port today from Kolkata, said Habibur Rahman, manager of the ship's local agent Mango Line.
After being unloaded and released from the port, the container will be sent to the Indian state of Assam by road through the Sheola land port in Sylhet and the Sutarkandi land port in Assam.
Earlier in August, a vessel with two Indian transit containers arrived at Mongla port.
One container carrying 16 tonnes of iron pipes was transported to Nongpoh in Meghalaya using the Tamabil-Dawki route and another carrying 8.5 tonnes of prefoam was sent to Silchar in Assam through the Bibirbazar-Srimantapur stations.
"We are expecting to conduct three trial runs by September-October. After that a regular transshipment of goods will start," said a shipping ministry official wishing not to be named.
During the trial run, the National Board of Revenue and the port authorities will take fees as per the treaty.
And for use of the Bangladeshi road, a Tk 1.85 fee would be charged for each tonne and each kilometre of Indian cargo.
RIVER ROUTES IN LIMBO
The first consignment of 1,000 tonnes of iron rods onboard a Bangladeshi ship started from Kolkata on June 3, 2016 for delivery to Tripura.
The goods were unloaded at Ashuganj river port and then loaded onto trucks to cross the 32-km Indo-Bangla border in Akhaura to a warehouse in Tripura. The transhipment fee for carrying the goods was Tk 192.25 per tonne.
The drop in distance means a significant fall in costs and time: it would cost $35 per tonne and take around 10 days to reach the destination through Bangladesh compared to $67 per tonne and 30 days for trucks to reach the same destination, said a member of the Bangladesh team who negotiated the transit issue with the Indian side.
This route has been unused by India since 2020 after the pandemic hit, according to the Bangladesh Inland Water Transport Authority.
The route's general failure to launch among Indian businessmen was down to two reasons: the absence of a terminal at the Ashuganj river port and a four-lane from the port to Akhaura land port, according to Sk Mahfuz Hamid, managing director of Gulf Orient Seaways.
In 2018, the government took up a project to construct the terminal and container depot at the Ashuganj river port for completion by December 2020.
"It could have been done in two years but that has not happened," Hamid said.
The project is targeting a December 2024 finish.
India would be providing Tk 740 crore of the total project cost of Tk 1,751 crore.
In 2017, the government also took up the project to construct the 50-km four-lane from the river port to the Akhaura land port for completion by June 2020.
As of February, the project's progress is 33 percent and is now aiming for a June 2025 completion, according to the ministry of road transport and bridges.
India would be providing Tk 2,982 crore of the total project cost of Tk 5,791 crore.
Once completed, the route will be attractive for Indian business people, said a shipping ministry official on the condition of anonymity as he is not authorised to speak with the media.
"There is no awareness among Indian businessmen of these routes -- those who ship to the Seven Sister states do not know of this facility even those there is substantial cost-saving for them," Hamid added.