Improving connectivity, trade can be a game-changer
Says Indian envoy on bilateral relationship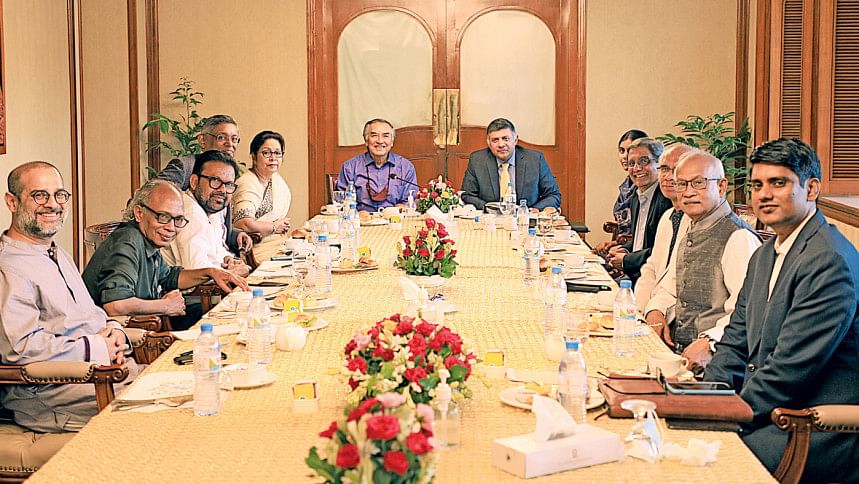 Improving trade and transport connectivity, alongside regulations and logistics, between India and Bangladesh, as well as other neighbouring countries can be a game-changer not only for the two countries but also for the entire region, said Indian High Commissioner Vikram Kumar Doraiswami yesterday. 
He said currently, the big challenge of trade between the two countries is high cost, as most of the trade happens through land route, which is inefficient and not environmentally friendly. A truck cannot carry more than 15 tonnes of goods, and mostly has to use one land route. 
"If you think about that, this is a recipe for creating monopoly. This is one of the reasons why our trade is so expensive and so difficult," Doraiswami said at a views-exchange meeting with the Editors Council at a city hotel yesterday, ahead of the prime minister's visit to India next week.
He spoke on various issues of bilateral relationship and sub-regional cooperation. He said Bangladesh and India have resolved many of the major issues, including complex ones like land and maritime boundary disputes, and the relationship is much more mature than what it was 20 years ago.
Doraiswami called for simplifying transport regulations and logistics as well as diversifying the connectivity routes -- which can be rivers, seas and rail -- that are low cost and environment-friendly.
India is also keen to have Bangladesh use Indian ports and railways for its export to developing countries like Nepal and Bhutan, and even to Europe.
The Indian envoy said sub-regionalism is a need of the time for the greater good of the regional countries.
"It is important that we look at greater port, energy, and economic interconnectivity at least among the four to five countries that are willing. BIMSTEC is one such mechanism to reach it," he said.
However, the infrastructure is not fully ready for that. For example, energy connectivity, which India is very keen about, is long overdue, but for that to happen, the transmission connectivity should be established.
The existing connectivity that is in place is already completely booked. Presently, there is an asynchronous connection line from Bahrampur to Bheramara for supplying about 1,000 MW of electricity from the Indian grid. Another 160 MW comes from Tripura on the radial route. Except for these lines, there is no other connectivity.
Doraiswami said India has been very keen to develop synchronous grid connectivity, which will seamlessly ensure grid stability across the region. In that case, investments will also come in renewable energy. It will also allow seamless purchase of power from Bhutan and Nepal.
On the subject of the BIN (Bangladesh, India, Nepal) arrangement, he said India and Nepal currently have a reciprocal motor vehicle agreement, while Bhutan has a non-reciprocal motor vehicle agreement with India.
For Nepal and Bhutan, the net benefit of BIN is small compared to the benefit for Bangladesh and India. The opening transport connectivity benefit for the two countries is huge, Doraiswami said.
"So, if we have transport connectivity for passenger and goods vehicles, we would do it for the benefits of both Bangladesh and India. Ninety percent of your [Bangladesh] land border is with us. so, it will open up transportation connectivity to the entire sub-region."
This connectivity can also be expanded much further, for instance maritime connectivity, he said, adding that currently there is no direct shipping connectivity between Bangladesh and India.
"The goods that have to go by sea between Bangladesh and India go via Port Klang or Singapore or Colombo. If you look at the map, this is ridiculous," he said.
Doraiswami said it is important to note that while the narrative of the bilateral relationship has improved vastly, the impression between the two countries is not always based on facts, which needs to be looked into.
Asked about the NRC implementation in Assam, he said there are misconceptions here about this. "It was done under Supreme Court orders, as part of a process that predates the current and several previous state governments.  There is no decision on it that has implications outside India, as our previous foreign secretary has said here."
"The [Bangladesh] prime minister's visit to India is a milestone event, but it is also part of the larger process that will take the bilateral relationship to the next level," he added.
Prothom Alo Editor Matiur Rahman, Ajker Patrika Editor Golam Rahman, New Age Editor Nurul Kabir, Bhorer Kagoj Editor Shyamal Dutta, Ittefaq Editor Tasmima Hossain, Samakal Editor Mozammel Hossain, Bonik Barta Editor Dewan Hanif Mahmud, Sangbad Editor Altamash Kabir and Dhaka Tribune Editor Zafar Sobhan were present in the meeting.
Mahfuz Anam, editor of The Daily Star and president of the Editors' Council, moderated the discussion.