IMF $4.5B Loan: Deputy MD to get a taste of Bangladesh
Monsio Sayeh is expected to arrive on Sunday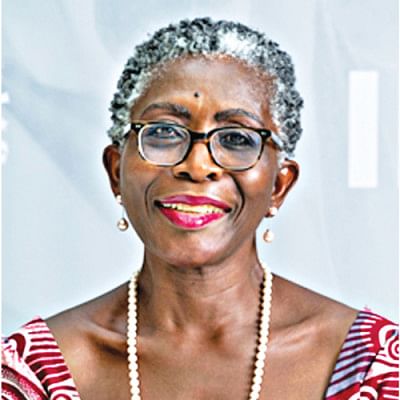 There would not be any further negotiations on the $4.5 billion loan programme during International Monetary Fund's deputy managing director Antoinette Monsio Sayeh's forthcoming visit to Bangladesh.
"We wanted to emphasise that it's not the purpose of this visit," a spokesperson for the Washington-based multilateral lender told The Daily Star yesterday.
Sayeh, who is also visiting India, Vietnam and Thailand, is scheduled to arrive in Dhaka on Sunday on a four-day tour.
Her visit is to underline the IMF's strong relationship with its Asian member countries, the IMF spokesperson said. 
"The visit to Bangladesh will provide an opportunity to strengthen the IMF's engagement and reiterate its continued support to the country," the spokesperson added.
Sayeh's itinerary suggests she wants to get an idea of the economic progress made by Bangladesh over the decades, where the country stands now and what its future potential is -- putting her in good stead to answer all questions that the IMF executive board may have later this month when Bangladesh's loan proposal is placed for approval.
It includes a trip to the Padma rail and a ride in Dhaka's metro rail -- the two mega infrastructure projects that were inaugurated in 2022.
She will also witness first-hand the dynamism in Bangladesh's famed garment sector, the second-largest manufacturer of apparel in the world, when she visits an industrial unit.
Sayeh, who was previously the finance minister of post-conflict Liberia, will also get an experience of Bangladesh's much-talked-about demographic dividend: she will visit the University of Dhaka and hold a session there.  
During the visit, which wraps up on January 18, she will meet with the prime minister, the speaker, the finance minister and the Bangladesh Bank governor to discuss the economic challenges facing Bangladesh and the ways the IMF could help the authorities to deal with them and support their efforts to foster strong, inclusive and green growth.
She will also engage with women leaders and university students.
This will give her a fair idea to accurately present Bangladesh's case before the IMF executive board, which is expected to convene later this month to take a call on Bangladesh's loan proposal.
Bangladesh has agreed to as many as 30 conditions, including some key structural reforms stalled for years.
If the board approves the loan application, the first instalment of $447.8 million would be released in February. It will be followed by six equal instalments of $659.18 million subject to fulfilling the timebound reform measures laid out in the loan proposal.