Will leave leadership if any AL councillor doesn't want me: PM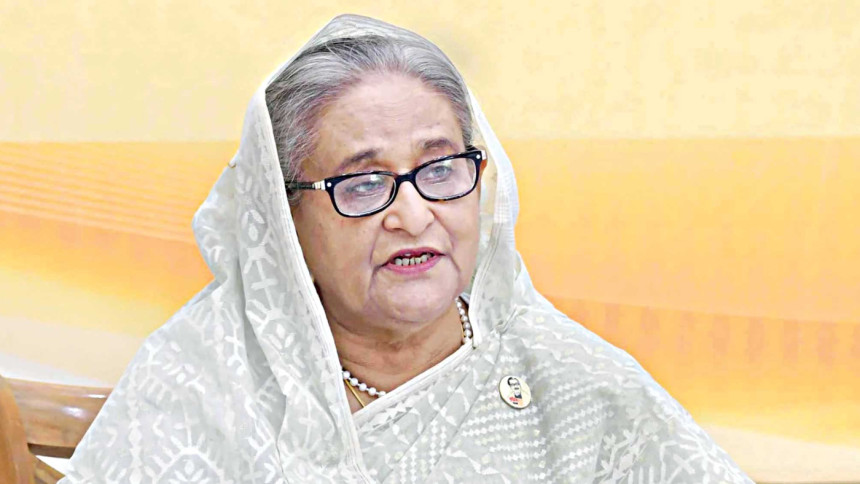 Prime Minister Sheikh Hasina has said any Awami League party councillors do not want her in the party, then she will leave the leadership.
"If any councillor doesn't want me, I will remove myself from the leadership," she said this afternoon at her official residence Gono Bhaban while briefing media over her visit to United Kingdom and United States.
The premier also said the AL council will be held before the national elections. 
URGES PEOPLE NOT TO WORRY
She also urged the people of the country to not be worried and vowed to overcome all the economic challenges.
The premier noted that she wanted to maintain Bangladesh economy's growth momentum despite the challenges posed by Covid-19 pandemic, and the Russia-Ukraine war.
On dwindling foreign currency reserves, the premier assured that there was nothing to worry about and there is no risk.
URGES UNITED NATIONS TO RESOLVE ROHINGYA ISSUE
The Rohingya refugee crisis issue was also on the Prime Minister's agenda during her US tour and the PM said she urged the United Nations to take measures to resolve the crisis.
During her recent participation in the UN General Assembly, she talked about the concerned officials and called for a solution to the crisis, she added.
Bangladesh is now hosting over one million Rohingya refugees from Myanmar.
WHY THE US SANCTION ON RAB?
PM Hasina today questioned the motive behind imposing sanctions on Rapid Action Battalion (Rab) by the United States, UNB reports.
"Who created Rab?" she asked, pointing out that the US trained Rab and provided everything to the anti-crime agency, which has been credited for its role in dealing with militancy and terrorism.
She said that some people provide false and fabricated information about the human rights violation to the United States, and some of them are misguiding the US after committing crimes here and leaving the country.
She appreciated Rab, saying that it has successfully tackled crimes and terrorism, but now criminals are being encouraged because of such sanctions on the agency. 
UNGA WAS A SUCCESS FOR BANGLADESH
The premier said that Bangladesh's participation in this year's United Nations General Assembly was very much successful, UNB reported.
"Considering overall (aspects of engagement), I think Bangladesh's participation in this year's United Nations General Assembly was very much successful," she said.
Sheikh Hasina said that in this year's assembly Bangladesh joined in all important meetings actively.
"This has strengthened Bangladesh's position further in multilateral forums," she said.
She hoped that the active participation of Bangladesh will also expand in the arena of international cooperation.