I have no hard feelings, you all stay well
Says Benazir on his last day as IGP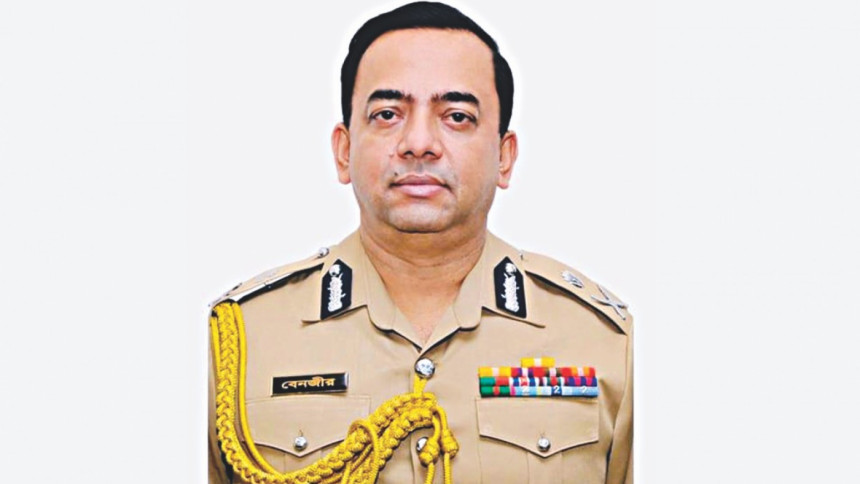 On his final day in office yesterday, IGP Benazir Ahmed said there's a culture of corrupt politics in the country, and in this culture, some people have unjustly and unreasonably pitted him against them.
"Today, I want to make it clear that I have no complaints or hard feelings against them, you [all] stay well."
The outgoing inspector general of police was speaking to the media at Rajarbagh Police Telecom  Auditorium. His tenure in the police department ends today after over 34 years of service.
Benazir further said police are allowed to use their firearms while on duty to defend themselves.
"The firearms I possess are to save my life. Several mechanisms are in place to see whether such arms were used [by law enforcers] to save [their] life or if there were instances of violation," he said when replying to a question about killings by law enforcers during political unrest or other mob incidents.
Judicial and internal enquiries are carried out into all such incidents to find out whether the rules were violated, he added.
Benazir said there are various accountability managements to investigate the allegations of human rights violation by law enforcers.
"The law enforcers are accountable to their department, court, state, and  society," he said.
The outgoing IGP further said Bangladesh is one of the many countries that are signatories to the Convention Against Torture, and it is the only country in the world that has enacted the Torture and Custodial Death (Prevention) Act.
Asked about the killing of Teknaf municipality councillor Ekramul Haque, during which he was the Rab director general, he said the incident did not take place on his "personal" watch. "It happened with [the involvement of] my field level officers, who were on government duty."
"It's a legal matter. There is no scope for me to express my opinion until it [the incident] is identified as unjust or immoral," he added.
"There was no personal dispute with the gentleman [Ekramul] who was killed in the incident, even though many tried to identify it as such.
"It is our responsibility to see if any of our colleagues have gone out of the mandate … If someone overstepped it, legal action will be taken against them."
He added that he has information regarding multiple investigations into the incident.
"There has been a magisterial enquiry. I ordered an internal enquiry too when I left [Rab to join as IGP]. It would not be fair to say there was no investigation."