'I don't want anything from anyone'
Born with congenital deformity, Shukur Ali defies the odds grabbing the handlebar of a rickshaw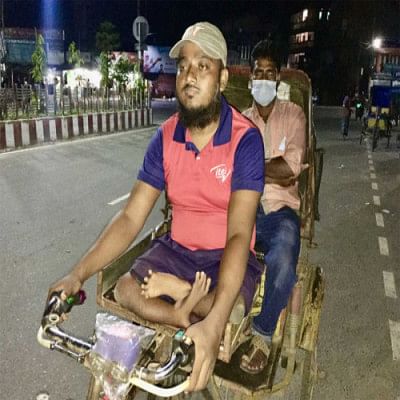 "Begging is disgraceful and I feel ashamed of begging," said Shukur Ali, 30, who was born with congenital deformity which does not let him walk. Despite having a pair of deformed legs, he runs a four-member family with his own income.
Shukur, son of Abdur Rashid of Balia Vekutia village in Arabpur union under Sadar upazila, runs a battery-powered rickshaw in Jashore town for earning his bread. In addition to bearing the family expenses, Shukur also has to pay Tk 1600 loan installment every week.
This correspondent found him in Daratana area of the town recently. He was busy asking pedestrians whether they needed a rickshaw. Donning a blue T-shirt and a cap, Shukur Ali unlike others with the same condition, did not want to be a burden to his family or society.
"I find it disrespectful asking people for money that's why I grasped the handlebar of the rickshaw," he said. His father Abdur Rashid is also physically challenged and he also pulls a motorised rickshaw.
"I never thought of my physical disability as a burden. I always wanted to move forward defying my odds," said a confident Shukur Ali.
He started earning his bread from a very early age. He started selling shoes setting up a makeshift shop on the banks of 'Laldighi' in Jashore town.
Shukur Ali got married 12 years ago as the business was quite good.
He is now the father of two children. They are Sohana Khatun, 10, and one year and two months old son Abdul Hakim. His children are also physically challenged.
Shukur Ali said that his business was doing well but it had to be shut since the municipal authorities started the construction of a building on 'Laldighi' a few years ago. He didn't have any choice but to beg. But his conscience did not let him do so.
He then bought a battery-run rickshaw taking a loan of Tk 60,000 from two NGOs.
Shukur Ali earns Tk 500 to Tk 600 every day by driving the rickshaw from morning to late night.
"If any other vehicle collides with the rickshaw in a congested road, I am likely to fall down," he said adding that the streets of the town are congested during the day but empty at night.
So, he is more comfortable driving his rickshaw at night. Despite seeing my disability, the patrol police held my rickshaw for a few days, he alleged.
He gets an allowance of Tk 4500 from the government twice a year.
"I don't want anything from anyone. I want to spend the rest of days working hard," he said.