Human trafficking cases: Only 1.5pc see conviction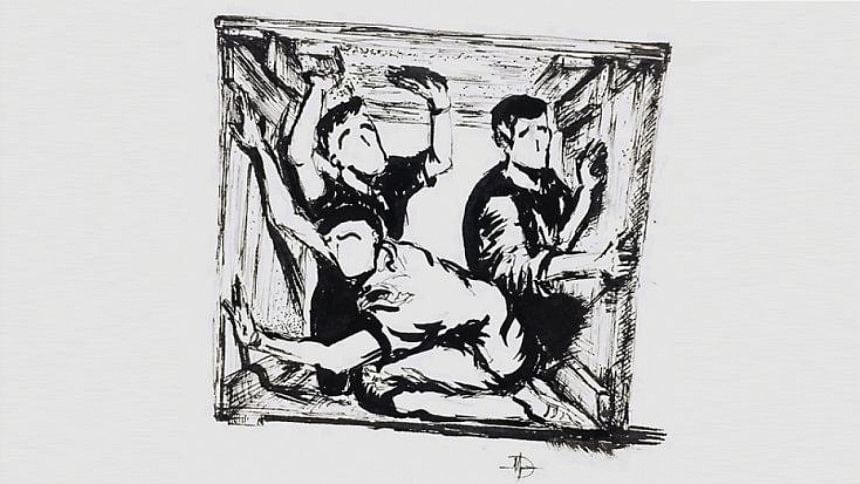 Seven years ago, Mohammad Sabuj and his neighbour Mohiuddin Sarkar from Cumilla's Daudkandi paid around Tk 13 lakh to six people who lured them with well-paying jobs in Germany. 
In February 2015, the six traffickers sent the two to India, assuring them that getting the German visa would be easier there. But Sabuj and Sarkar got nothing and after 17 days in India, were brought back to Bangladesh, and taken to Cox's Bazar.
"This time, they told us that they would send us to Thailand first and then to Germany. They asked to stay at a house until a boat comes from Thailand. But within a few days, they fled abandoning us," Sabuj told The Daily Star.
After managing to make their way back to Daudkandi, Sabuj filed a case against six members of the trafficking gang with Paltan Police Station in the capital on July 10 that year.
Police Bureau of Investigation investigated the case and submitted a charge sheet to a Dhaka court against three accused on April 20, 2016.
The court framed charges against them on January 22, 2017. But none of the 13 witnesses, named in the charge sheet, testified in the case during the trial that continued for around five years.
On July 27 this year, the Anti-Human Trafficking Offence Tribunal of Dhaka  acquitted the accused.
In the verdict, the judge said, "There are no legal or rational provisions for a criminal case to be pending for years due to a failure of the state in producing witnesses."
Instead of justice for his ordeal, Sabuj got nothing but frustration. "I did not get my money back, nor did the accused get punishment. I did not get justice."
This is not an isolated case of trafficking accused escaping justice. The conviction rate in human trafficking cases in Bangladesh is dismally low.
Anti-Human Trafficking Offence Tribunal of Dhaka, which started operation in March 2020, only deals with cases filed in different police stations in Dhaka Division.
Analysing its data, The Daily Star found that only around 1.5 percent of human trafficking cases it dealt with resulted in convictions.
According to the data, around 858 cases were disposed of from March 2020 to August this year and only 13 ended in convictions with 20 accused handed different jail terms.
In 2020, 37 cases were disposed of in the tribunal, and 22 were settled before the cases went to trial. In 2021, 475 cases were disposed, of which 76 were settled before they reached the trial stage. Till August this year, 346 cases were disposed of by the tribunal in Dhaka, with 36 being settled before trial.
Bangladesh enacted the Prevention and Suppression of Human Trafficking Act-2012 to combat trafficking and protect victims. But it took the government nearly eight years to set up special tribunals -- as mandated by the law -- to exclusively deal with trafficking cases.
In 2020, the government also set up these special tribunals in Chattogram, Barishal, Rangpur, Khulna, Sylhet, Rajshahi for ensuring speedy trials in human trafficking cases.
However, some 5,781 cases involving 29,181 accused were still pending in all seven courts as of June, according to the home ministry's database.
WHY SUCH A LOW CONVICTION RATE?
Experts and rights activists blamed the low conviction rate on the absence of proper evidence in the charge sheet, non-appearance of witnesses, out-of-court settlements, the accused reaching a compromise with victims, and lack of expertise in dealing with the cases.
KM Sazzadul Hoque Shihab, a state lawyer of the tribunal in Dhaka, said although courts send summons to respective police stations, the law enforcers fail to produce witnesses.
"This non-appearance of witnesses is the major reason behind low convictions," he told The Daily Star.
Another major reason for low convictions is out-of-court settlements, he said. The victims often give in to the pressure exerted by the accused.
Shariful Hasan, head of Brac's Migration Program, said the absence of proper evidence and information in charge sheets resulted in low conviction rates.
"Political will is necessary for trafficking case convictions. At present, police do not treat trafficking cases as their major focus," said Shariful.
Md Nazrul Islam, special superintendent (human trafficking wing) of the Criminal Investigation Department (CID), however, said there is no scope for neglecting any case.
"Sometimes it becomes difficult to prove every case beyond reasonable doubt as we cannot spend a long time on a single case. In many cases, victims do not cooperate, and so we become involved with another case."
He, however, said the compromise of the victim or the victim's family with the accused is one of the major reasons for the low conviction rate. Sometimes, the accused threaten victims and witnesses and tell them not to appear in court, while at other times victims stop the proceedings after getting back some of the money they paid to traffickers, Nazrul added.
WHAT NEEDS TO BE DONE
Sources in the law enforcement agencies said a major loophole found in the charge sheets was that the police often fail to provide clear information about the place of occurrences as they took place in foreign countries.
But SS Nazrul said that they are working to overcome the problem.
"We are now taking support and information from different international NGOs like IOM and collecting data from them. We also seek assistance from Interpol," he said.
Nazrul, however, said victims need to come to the police and speak out about problems and stop making negotiations with the accused.
"We are now trying to create awareness in this regard. Even, we have a small team from the serious crime unit of CID at the airport to give support to trafficking victims," he added.
Shariful Hasan thinks that the public prosecutors have a major role to play.
"Victims often told us that the prosecutors did not inform properly about the case hearing or when the witness needed to be produced," he said, suggesting continuous training for all stakeholders involved with the trafficking case.
Besides, special attention needs to be given at those places where a huge number of trafficking cases are registered like Dhaka, Cox's Bazar, Satkhira and Jhenidah.