Hriday Mondal returns to class after 28 days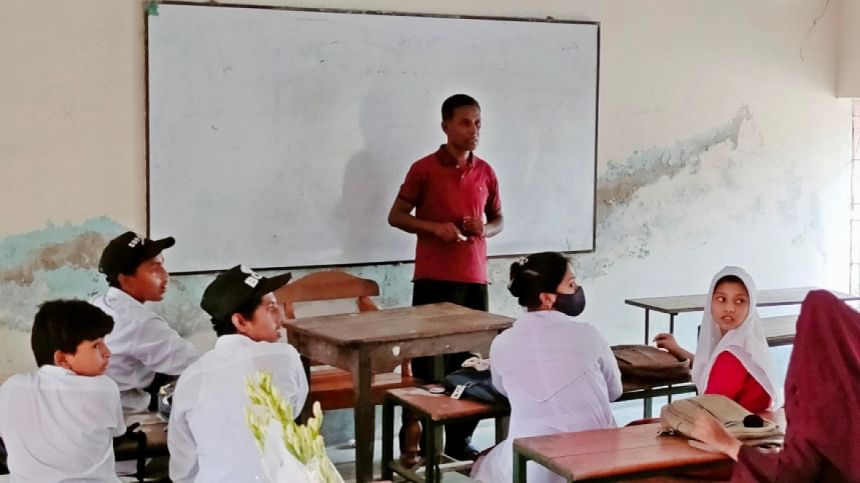 Hriday Chandra Mondal, who teaches maths and science at Binodpur Ram Kumar High School in Munshiganj, has returned to class today (April 19, 2022) after 28 days.
He took a maths class of tenth grade students, reports our Munshiganj correspondent.
After the class, a harmony meeting was held in the school grounds with the participation of public representatives, students and teachers.
Hirday was released on bail on April 10, after spending 19 days behind bars on false charges of "hurting religious sentiments".
After completing the class, Hriday told The Daily Star that only four out of 62 students were present in the class.
"I was upset over the low attendance of students but took the class spontaneously. Relationships between colleagues are yet to reach normalcy. I have been busy with my work since morning," he said.
When he was in prison, he was worried about getting back to class, he said.
"But now I see that everyone came and stood beside me," he said, adding that he will take classes regularly.
"I will provide tuition at my house too. I believe more students will come to take tuition as well," he said in a confident voice.
In response to a question, the teacher said, "The school authorities will take action to withdraw the case. I want the students to come back to my class as before."
The harmony meeting was presided over by school managing committee's President Alamgir Khan where Faysal Biplob, municipality mayor of Munshiganj was present as chief guest.
On March 20, Hriday was having a conversation with some of his students about the difference between science and religion.
Later in the afternoon, a group of students filed a written complaint with the headmaster, alleging that Hriday made "derogatory comments on Islam".
On March 22, some students staged a demonstration, after which police detained Hriday. That night, the school's office assistant, Md Asad Miah, filed a case against Hriday for "hurting religious sentiments".
His bail petition was denied twice on March 23 and 28.
The incident sparked huge outrage both at home and abroad. Different organisations issued statements and held rallies in the capital demanding his release.