How Rohingya youth are fighting for education
As we don't take any money from the families, we always suffer from severe resource constraints. We have to purchase educational materials frequently because many students have to use same books and they get worn out quickly.
Abdul Aman, a Rohingya boy of 18, was a student of grade eight in 2017. His dream was to travel abroad for higher education after completing his school.
Aman's dream was shattered when his village Shikderpara, like many others, was razed to the ground during Myanmar military raid on August 26, 2017.
After weeks of trekking through jungles and mountains, Aman and his family members reached Teknaf and finally got shelter at Kutupalong Lambashia refugee camp. Aman never imagined that he would be able to go to school again.
However, in 2018, some Rohingya youth came forward to establish schools inside the refugee camps in shanties with Burmese books and educational materials.
Aman got the opportunity to study again in one of these informal, makeshift schools run entirely voluntarily by Rohingya youth, many of whom had studied in colleges and in universities in Myanmar.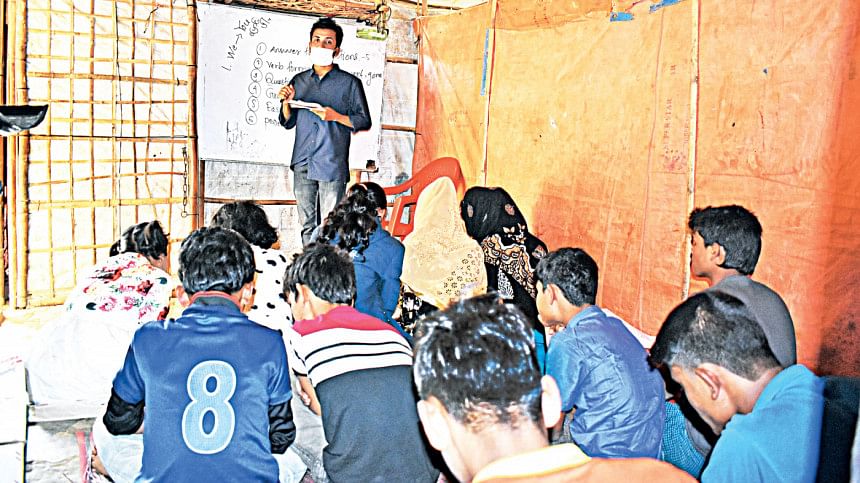 Around half a million Rohingya children in refugee camps in Bangladesh do not have any access to formal education. Only around 1,45,000 of them attend 1,600 learning centres where they get access to only pre-primary and primary level education.
We are teaching according to Myanmar curriculum as we hope that we shall be repatriated with citizenship.
However, there is no recognised educational facility for Rohingya adolescents like Aman, who are above the age of primary schooling.
In the miserable and uncertain environment of the refugee camps, these informal schools in shanties have restored joy and hope among thousands of Rohingya children and adolescents. 
"I am so grateful to my teachers who opened this school for us. In this school, I completed up to 12th grade and I learned to communicate fluently in English and Bengali. Thanks to this education, I often get employed by aid workers as a translator and guide. I also teach at the school, mostly students from grade one to five. Three of my siblings are also studying in the school," said Aman.
Yassin Abdu Monab, a Rohingya youth, is a founder of one of these schools.
Yassin was a student of Sittwe University in Rakhine. In 2012, Myanmar government expelled all Rohingya students from universities and colleges. As a consequence, Yassin was forced to drop out when he was a 4th year student of the university's English department.
In Kutupalong refugee camp, Yassin and his friends found thousands of children and adolescents who were in dire need of education.
 "We became really worried when we saw that thousands of meritorious children and youth are getting deprived of education.  They have the talent but many of them are sitting idly, doing menial works. Many of them are even getting trafficked," stated Yassin.
Mohammed Iqbal, a teacher of a makeshift school, said, "We thought of setting up schools in the camps like we had built in our villages in Arakan. However, the problem was how would we get books and curriculum? We did not find any Burmese textbook or syllabus in the refugee camps as during our exodus, we could only bring our essential belongings with us."
However, these passionate Rohingya youth came up with a daring solution -- bringing the materials from across the border.
"Some of our relatives stranded in Rakhine helped us to purchase those materials. We could have been killed by landmines, we could have been shot by Myanmar border police but we were determined to bring books and curriculum which were essential to establish our schools," said Iqbal.
"We thought that if we could not educate our children about our history and cannot give them modern education, an entire generation of our people will sink into ignorance. This thought was our main driving force," he added.
At present, these Rohingya youth are running around 50 schools in different refugee camps.
These schools start at 5 pm and continue up to 8 pm as the teachers have to work during the day for their livelihood. Usually, these schools are housed in long huts comprising two or three rooms. These huts have been erected by community people.
Students are divided into three to four groups according to their age and grade. Teachers like Yassin and Iqbal help these students in their studies.
In one such schools founded by Yassin and his friends, more than 500 students are studying at present completely free of cost.
They also sit for tutorials and final exams; however, they don't get any formal certificate.
But that does not affect students' participation in these schools. Parents from all across the camps send their children to nearby schools. One of them is Akhtari Banu whose three sons are studying in the school founded by Yassin.
She said, "Schools established by the NGOs only teach songs and rhymes and different types of games. So, I sent them to this school. Here they are learning maths, sciences and the holy Quran as well. I am very happy that we have this school in our camp."
However, running these schools has been extremely challenging for these enthusiastic Rohingya.
"As we don't take any money from the families, we always suffer from severe resource constraints. We have to purchase educational materials frequently because many students have to use same books and they get worn out quickly. Most of our teachers work for different NGOs as translators and office assistants. We have to provide books and other educational materials with our meagre income," Mohammed Iqbal said.
"Another of our limitation is evaluating and recognising our students. We are evaluating our students regularly through series of exams. However, our students are not getting any certificate. Many of our students are extremely meritorious but we cannot recognise their capabilities," added Yassin.
The ongoing pandemic has further deteriorated the situation. As Aman noted, "Due to this pandemic, very few aid workers can visit our camp due to COVID-19 related restrictions. Donation from local and international donors have also decreased a lot. We cannot earn adequately to run our schools. Some NGOs promised us financial aid but we hardly got any support from them."
The precarious situation in Myanmar is also a cause for worry for these educators.
Yassin said, "We are teaching according to Myanmar curriculum as we hope that we shall be repatriated to our homeland with citizenship. But, due to military takeover in Myanmar and the COVID-19 pandemic, we see little hope to return to our country in the near future."
"We need financial support and certification to run these schools effectively. We also feel that we should start technical education in the camps to make our adolescents and youths skilled and employable. But we do not have the capacity to start technical education in our schools," he added.
In fact, last year Bangladesh government planned to provide formal education to Rohingya children and youth according to Myanmar curriculum.
For this purpose, on January 27, 2020, the National Task Force on Rohingya crisis chaired by the foreign secretary finally decided to lift the ban on providing formal education to Rohingya children.  
According to the plan, children up to age 14 were supposed to go to schools following the Myanmar curriculum and those who are older would attend various vocational and training centres.
The first batch of 10,000 Rohingya children were supposed to get admitted to formal schools and vocational training centres in April, 2020.
However, the entire plan came to stand still due to COVID-19 pandemic.
Shah Rezwan Hayat, refugee, relief and repatriation commissioner to Cox's Bazar, said, "We decided to provide education to 10,000 Rohingya children on a pilot basis. But we had to postpone the programme due to the pandemic. We don't know when we can start the education programme again. We are now focusing more on preventing the spread of COVID-19 in the camps."