Padma Bridge: How did he remove the nuts and bolts?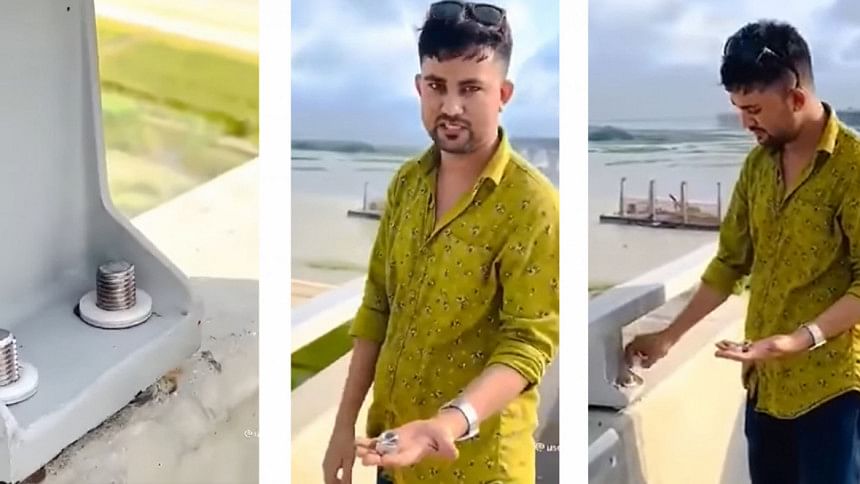 Hours after the arrest of a youth who was seen removing nuts and bolts of Padma Bridge's railing, Criminal Investigation Department (CID) still could not specifically say how he removed them.
However, CID officials suspect that he might have used tools to remove the bolts.
"It is not possible to remove the bolts with bare hands. We have discussed with the bridge authorities and they confirmed this," Special Superintendent of CID Rezaul Masud told a press briefing at CID headquarters in Malibagh yesterday.
The official, however, could not determine what kind of tools were used.
Meanwhile, construction workers were seen working on the bridge yesterday morning. They were tightening the nuts and bolts using wrenches and a special type of glue.
A worker said they could not tighten all the nuts and bolts of a part of the railing before inauguration.
Bridge officials echoed them.
They said railings of Padma Bridge's viaduct section are made of stainless steel. A special glue is used to tighten the nuts and bolts. However, it was not possible to glue all the nuts before inauguration.
Earlier, a video of removing the bolts went viral on social media. Police arrested Bayzid Talha (31) on Sunday in this connection.
CID's Rezaul said a case has been filed against Bayezid, his friend and some unnamed persons with Padma Bridge (South) Police Station.
At the press conference, Rezaul said Bayezid went there by car with his friend.
He said they have collected some videos but did not get any CCTV footage.
Asked about Bayezid's political identity, Rezaul said, "We have booked him as a criminal. He may have a political identity, but we have not been able to confirm that yet."
Bayezid was taken into a seven-day remand yesterday.