High Prices of Essentials: Double blow for those with fixed income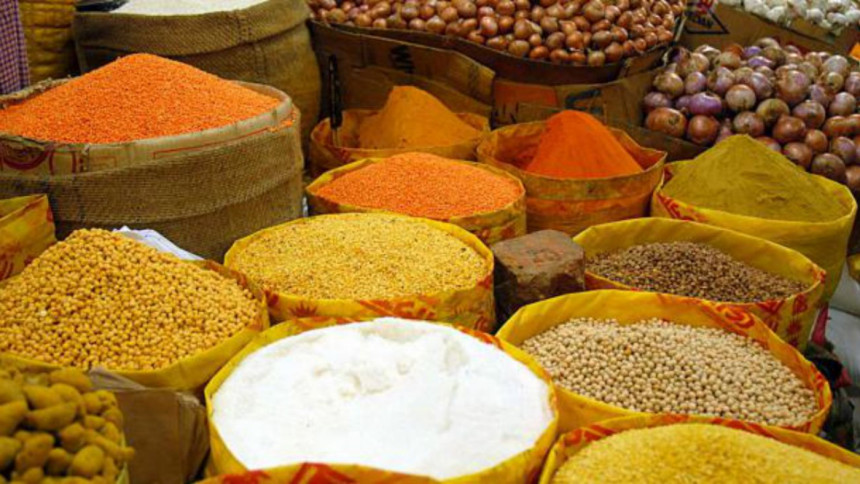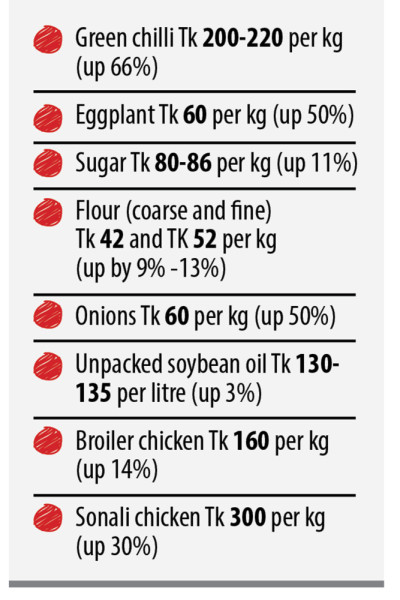 Prices of almost all daily essentials have shot up in the kitchen market, adding woes to the fixed-income people who are reeling from the economic slowdown caused by the pandemic.
In the last couple of weeks, prices of sugar, flour, chicken, fish, cooking oil, spices and vegetables have gone up due to supply constraints amid recovering demand from the pandemic and soaring prices in the international commodity market.
Visiting several kitchen markets in the capital yesterday, this correspondent found that sugar was being sold at about 11 percent higher than the government-fixed rate of Tk 74-75 a kg. The sweetener was being sold at Tk 80-86 a kg.
Abul Hussain, a retailer in the capital's Shukrabad area, said he purchased loose sugar at Tk 78 per kg from the wholesalers. "Then, how can we sell it at the government-fixed rate?"
Though rice price remains stable now, consumers have been spending more on flour. Coarse flour (ata) and fine flour are available at Tk 42 and Tk 52 a kg, which is nine-13 percent higher than before.
Md Shafiul Ather Taslim, director of finance and operation at TK Group, one of the leading importers and processors of commodities, said flour prices have increased due to price hike in the international market. Now, flour price is about $450 per tonne, about 29 percent up from weeks back, he added.
Onion price rose by around 50 percent to Tk 60-65 a kg within a week. Traders blamed a dearth of supply for this soaring price.
According to the state-run Trading Corporation of Bangladesh (TCB), prices of unpacked soybean oil and unpacked palm oil have increased by around three percent and 10 percent a litre respectively within a month.
Unpacked soybean oil was being sold at Tk 130-135 a litre, bottled soybean oil at Tk 145-155 and unpacked palm oil at Tk 125-128 yesterday.
Hinting at the further increase in the edible oil prices, Taslim said price of crude soybean oil has gone up by around 21 percent to $1,390 a tonne in the international market recently.
Broiler chicken was being sold for Tk 160 a kg and Sonali variety for Tk 300 at Town Hall kitchen market. Just two weeks ago, their prices were Tk 140 and Tk 230 respectively.
Poultry and broiler chicken retailers said the price of chicken has recently shot up due to less supply against the increasing demand.
Meanwhile, poultry farmers said their production costs have increased as feed prices have gone up by about 35 to 40 percent. For this, many farmers have been forced to reduce production, they added.
Egg price has increased by around Tk 10 per dozen this week.
Fish price has also soared as the government imposed a 22-day ban on hilsa catching from yesterday during the main breeding season. Rui fish was available at Tk 260-360 a kg, Tilapia at Tk 160-180 and Pangas at Tk 120-180.
The price of green chilli has increased by Tk 80-100 a kg to Tk 200-220 over the last two weeks.
Pre-season beans were selling Tk 120-140 a kg while carrots and tomatoes were available at Tk 100-120 per kg.
Apart from green papaya, which was sold at Tk 30 a kg, there is almost no vegetables in the city markets that cost less than Tk 50 a kg.
However, prices of most of the vegetables were between Tk 25 and Tk 35 a kg in Boro Bazar wholesale market in Jashore, one of the biggest vegetable producing belts in the country.
Sukumar Roy, a farmer and trader in Satmail area of Jashore Sadar upazila, said vegetables' supply in the market is very low as the summer vegetables are almost finished and the winter ones are yet to arrive.
Prices of all spices, including garlic and ginger, have shot up by Tk 5-10 a kg.
Rickshaw-puller Rahmat Ali, of the capital's Tejkunipara area, said recently his family expenditures have almost doubled due to price hike of daily essentials.
"Several months earlier, I could buy daily essentials for my family spending Tk 300. Now I need to spend Tk 500," he said.
Shakil Ahmed, who lives in Kalabagan area, said now he goes to Karwan Bazar on foot during the off-peak hours to buy vegetables and daily essentials at a cheaper rate.
Ghulam Rahman, president of Consumers Association of Bangladesh (CAB), said vegetable prices remain high in every October due to shortage of supply.
"But in the case of other products, including oil, sugar, flour, prices in the local market have gone up much more than that of in the international market. Our traders hike prices on the pretext of international market prices," he said.