Girls' enrolment keeps dropping at colleges, universities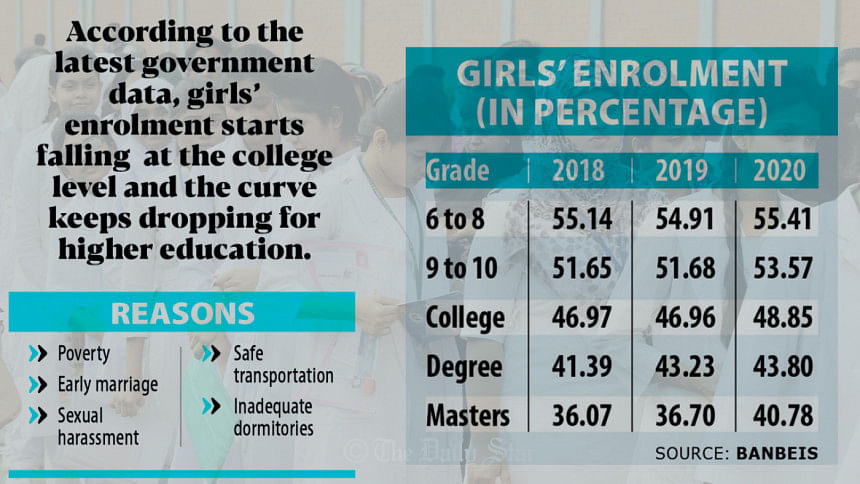 Women's education in Bangladesh has been a success story so far. Girls have continued to outnumber boys at primary and secondary levels, accounting for more than half of school enrolment.
However, the situation does not remain the same once it's time for college and university. According to the latest government data, girls' enrolment starts falling at the college level and the curve keeps dropping for higher education.
The data -- prepared by Bangladesh Bureau of Educational Information and Statistics (Banbeis) -- suggest that 55.41 percent of girls were studying at the junior school level, from sixth to eighth grade, in 2020, while their participation at  master's level was 40.78 percent.
Girls accounted for 53.57 percent of total enrolment at the secondary level, ninth and 10th grade, while the share was 43.80 percent at the graduation level.
The scenario was almost the same in 2018 and 2019.
There is a silver lining in the grim statistics as well. Women's participation at the master's level  has increased in three years until 2020. In 2019, some 36.70 percent of female students attended master's level courses, showed the Banbeis data.
Speaking on this declining trend, educationists said poverty and child marriage are major reasons for the drop. Sexual harassment on the way to college and university also plays a vital role.
Besides, the absence of girls' hostels also serves as a setback in the way of girls' education, they said, alongside the lack of safe transportation.
"Usually, primary schools are located near students' homes. The distance between home and educational institutes keeps increasing with higher levels of education. A girl needs safe transportation to go to colleges and universities," said educationist Rasheda K Choudhury.
"We all know what kind of miserable condition a girl has to be in while commuting via buses," she told this correspondent.
Rasheda, also executive director of Campaign for Popular Education (Campe), said that residential facilities can solve the problem to a great extent.
Barring a few, most secondary schools and colleges, and private universities have no residential facilities. Some of the government colleges [that offer honours courses] and public universities have dormitories, but those are inadequate, she added.
Maleka Banu, general secretary of Bangladesh Mahila Parishad, said child marriage and guardians' indifference toward investing for their daughters are two reasons behind lower enrolment at the tertiary level.
According to Unicef, 51 percent of young women in Bangladesh were married before their 18th birthday. Bangladesh ranks among the top 10 countries in the world with the highest number of child marriages.
"Child brides are somewhat more likely to reside in rural areas and live in poorer households, and are less likely to have more than secondary education. Married girls are over four times more likely to be out of school than unmarried girls," said Unicef in an October 2020 factsheet.
Experts said the Covid-19-induced long closure of educational institutions has worsened the situation.
Maleka said dormitories for girls at educational institutions are badly needed.
According to data of University Grants Commission, only 37.50 percent of 1,12,779 female students enrolled at 43 public universities have dormitory facilities.
Jagannath University has no dormitories for 6,583 girl students. Around 14 percent of female students could avail  dormitory facilities at Barishal University, and 30 percent could get accommodation at Bangladesh University of Engineering and Technology (Buet). Girls' colleges suffer from a serious shortage of dormitory seats.
Eden Mahila College Principal Supriya Bhattacharya said there are 22,000 students at her college and six dormitories in total, which can accommodate only 6,000 students.
Prof Tania Haque of women and gender studies at Dhaka University said safety on their way to and from educational institutions, and infrastructure facilities like dormitories for female students are crucial.
Contacted, Prof Nehal Ahmed, director general of Directorate of Secondary and Higher Education, said they are aware of the situation.
"It is true that girls were more interested and felt safe if there were hostel facilities for them," he said.
Asked whether the government will build dormitories for them, Nehal said there are schools within a two-kilometre radius of every locality.
"In the existing reality, we can say that we have plans to set up dormitories for schools at haor, hill and island areas. We are working on the issue," he added.