Heatwave: Jail authorities take measures to protect inmates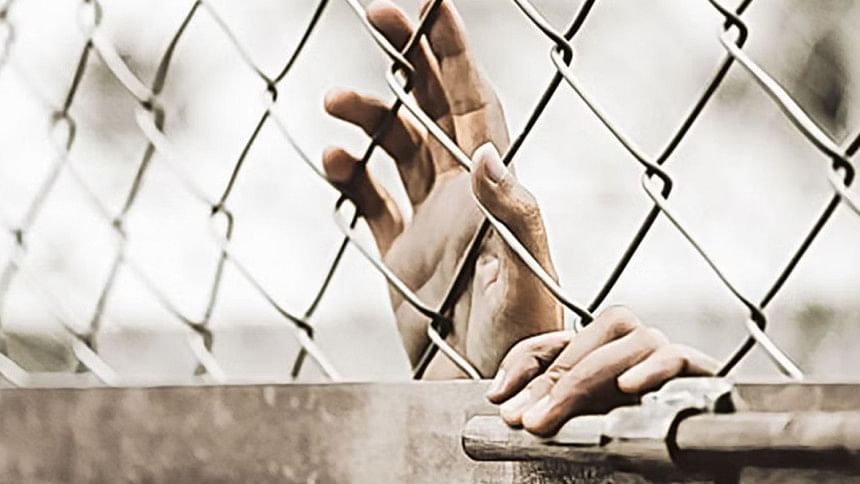 The jail authorities, to protect inmates from the heatwave, are keeping the them under the shade of the trees inside the jail grounds for the majority of the daytime.
Additionally, oral saline is given to the prisoners in case they get sick. The administration has increased the water supply to the jails and inmates are also permitted to bathe more frequently.
Speaking to The Daily Star today, Kashimpur Central Jail (Part 1) Senior Jail Super, Shahjahan Ahmed, disclosed the measures taken by the jail staff for the prisoners.
"The electric fans inside the cells are working fine. But the inmates complained that the fans were blowing hot air, so we took the extra precautions," he continued.
Despite the fact that the heatwave had little to no significant effects on inmates' health, there are now more people with cold-related illnesses like fever and cough being treated in jail hospitals.
Mahmudul Hasan Shuvo, chief medical officer of the Dhaka Central Jail (Keraniganj), said, "We used to receive between 400 and 450 patients daily earlier. However, following the heatwave, we are now seeing 550 to 600 patients daily."
The doctor explained that the main psychological issues these patients were experiencing were related to excessive sweating brought on by the heatwave.
Md Main Uddin Bhuiyan, assistant inspector general (admin) of the Prisons headquarters, told The Daily Star that all prisons nationwide have been told to fix the fans so that inmates don't experience any issues.
There is currently nothing to worry about and the situations are still under control, he added.
Amid a week-long heatwave, people in different parts of the country are experiencing a sizzling heat with the mercury soaring to 40.4 degrees Celsius in Dhaka, making it one of the hottest days in the last 58 years, while the season's highest temperature of 42.2 degrees Celsius was recorded in Chuadanga.
People who work outdoors, especially day labourers, rickshaw pullers, and farmers are finding it challenging to continue working under the intense heat of the sun.
Bangladesh Metrological Department said the suffering of people is likely to continue for a few more days as the severe heatwave, which is sweeping through Khulna division and Dhaka, Fardipur, Manikganj, Rajshahi, Pabna and Patuakhali districts, will continue.