Hajj package cost rises by over a quarter
Appreciation of Saudi riyal against taka, high airfare cited as reasons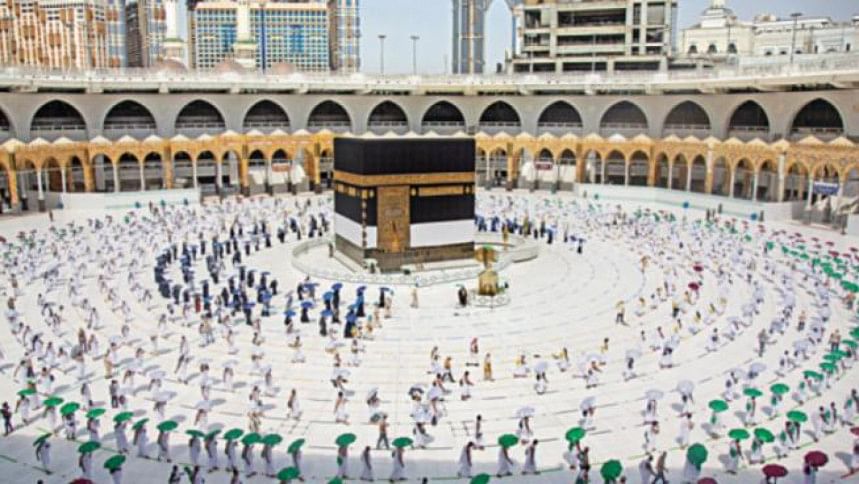 A Bangladeshi pilgrim will have to spend Tk 6.83 lakh to perform hajj this year under government management, up by around Tk 1.61 lakh on the previous year.
Hajj under private management will cost a pilgrim a minimum of Tk 6.57 lakh this year, around Tk 1.36 lakh more than in 2022.
This was decided in a meeting of the executive committee on hajj management at the secretariat yesterday, with State Minister for Religious Affairs Md Faridul Haque Khan in the chair.
Speaking to reporters after the meeting, the state minister said the government announced two hajj packages of Tk 5,86,340 and Tk 5,21,150 last year, but the number of packages has come down to one this year.
The Hajj Agencies Association of Bangladesh (Haab), a platform of private hajj tour operators, would formally declare its hajj package rates at a press conference at a city hotel today, Haab President M Shahadat Hossain Taslim, told The Daily Star.
He said the private agencies will fix their package rates in conformity with those of the government's.
About the rise in the hajj package rates, the state minister said one Saudi Riyal is being sold for Tk 30 this year against last year's Tk 21.
Faridul said the government has fixed this year's plane fare at Tk 197,797 as the ticket price has gone up due to the global economic crisis.
Last year, the plane fare was Tk 1.40 lakh.
Like the previous year, three airlines -- Biman Bangladesh Airlines, Saudia Airlines and Flynas -- will carry the hajj pilgrims this year.
The hajj is likely to be held on June 27, subject to sighting of the moon.
The government on January 9 signed an agreement with Saudi Arabia on hajj. According to the deal, 15,000 Bangladeshis will perform hajj this year under government management while 1,12,198 under private management.
Biman will carry 50 percent passengers while the two Saudi carriers will transport the rest of the pilgrims.
The Saudi government has lifted the age limit for hajj pilgrims this year, paving the way for people over 65 to go for the pilgrimage.
According to the "Route to Makkah Initiative" deal, all Bangladeshi hajj pilgrims who would fly from Dhaka will complete their pre-arrival immigration in Dhaka.
Depending on the Covid situation, the Saudi authorities can take a decision on the number of the pilgrims.
In 2022, a total of 57,585 Bangladeshis performed hajj. The figure was around 1.27 lakh in 2019.
Due to the pandemic, the largest annual Muslim congregation was held on a limited scale in the last two years.