Gulshan Fire: Anwar never got to see his child's face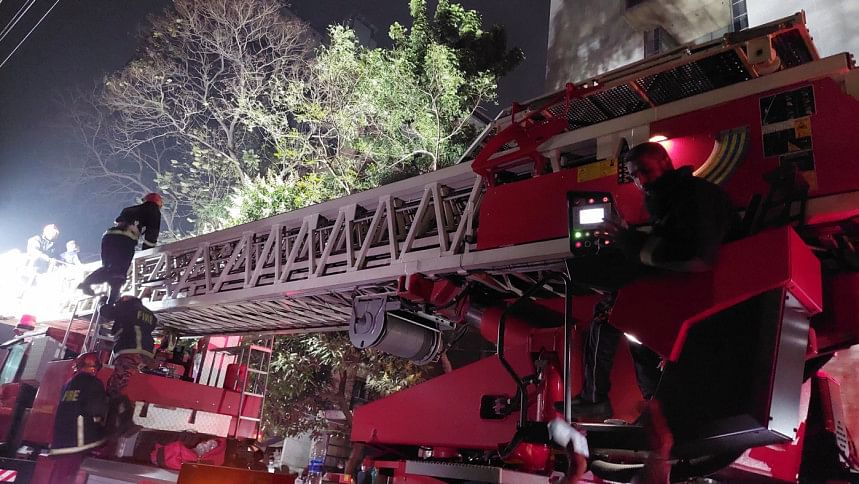 He was excited to see the face of his first baby and had planned to visit home to be with his wife in early March.
But his wish could not come true.
Thirty-year-old Anwar Hossain, who was the caretaker of a flat of the 13-storey residential building that was engulfed in a fire on Sunday night, succumbed to his injuries.
While firefighters were desperately trying to douse the blaze at the capital's Gulshan, Anwar jumped off the 11th floor to save himself around 8:30pm. He was taken to Dhaka Medical College Hospital, where he died at around 1:00am.
Anwar's niece Rabeya Aktar said her uncle lived in Bhola's Borhanuddin upazila and got married about three years ago.
He went to his village about two months ago to see his wife, who was expecting on February 7. He sought leave from the flat owner but was asked to go later during the delivery period, said Rabeya.
"My grandma came to Dhaka a few days ago. She will leave for the village today [yesterday]. Uncle [Anwar] had told grandma to take some money for his wife before leaving for home," she said.
"Instead of taking the money home, now she'll return with her son's dead body," she said.
Like Anwar, Razib Peres, a cook of another flat in the apartment complex, jumped off the balcony on the 10th floor to save himself from the blaze.
A father of two siblings, Razib hailed from Paoran village in Nagori union of Gazipur's Kaliganj upazila.
After hearing the news of the fire, Sajib Peres, his younger brother, rushed to Gulshan.
"He was on the 10th floor. We were talking with him on the phone. He was telling me how he could save himself from the fire," said Sajib.
"He didn't tell me once about jumping off the balcony," he said, adding that he found his brother unconscious inside an ambulance.
"He was alive for about one hour," he said.
Rajib's daughter is a seventh grader and his son studies in second grade.
"We're a joint family. And now we've lost our breadwinner," he added.