Govt's Aman Procurement: Only 28pc of target achieved in Pabna
Officials blame syndicate of millers, traders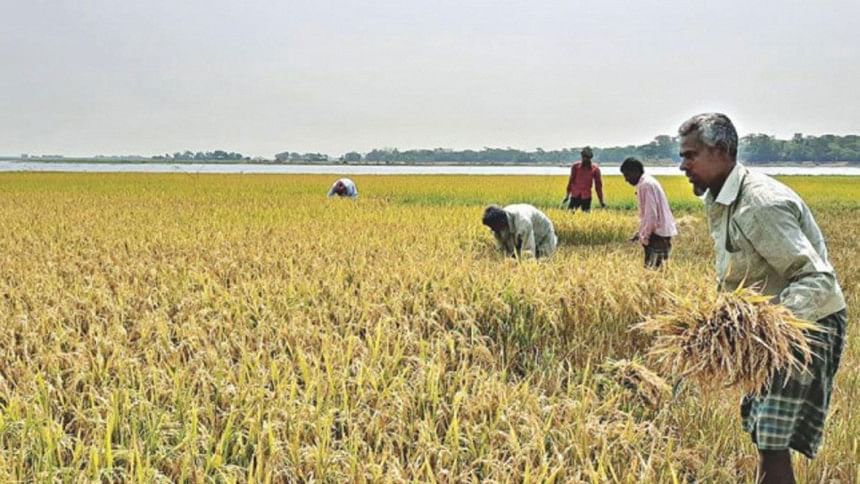 The government's Aman procurement drive in Pabna did not go ahead as planned as it achieved only 28 percent of its procurement target.
A syndicate of mill owners and traders is behind the poor result of the drive, said food department sources.
Millers claimed that they could not sign contracts with the governmentbecause of poor price. On top of that, many millers who signed contracts did not supply rice.
The food department, however, has achieved 80 percent of its procurement target across the country, said officials.
The office of the food controller in Pabna already issued show-cause notices to 469 husking mills and 14 auto rice mills for not supplying rice.
There are 575 licenced husking mills and 19 auto rice mills in the district. Only 92 mills -- 87 husking mills and five auto rice mills -- have inked contacts with the government.
The Aman paddy and rice procurement drive started on November 17 and ended on March 7.
The government had a target of procuring 12,786 tonnes of rice and 3,914 tonnes of paddy through 11 depots in Pabna.
The government fixed the purchase price of paddy at Tk 28 per kg, and that of rice at Tk 42 per kg, said officials at the food controller's office in Pabna.
"We have collected only 3,629 tonnes of rice, which is 28 percent of the target amountof 12,786 tonnes. Even after sending notices repeatedly, some millers did not supply rice," said Muhammad Tanvir Rahman, district food controlling officer.
Speaking to The Daily Star, Idris Ali Bishwas, president of Husking Millers Association in Pabna, said millers refused to enter contracts with the government because of pricing issues.
"The production cost of each kg rice is Tk 43. It is impossible to supply rice to the government at Tk 42 per kg. If we supply rice at the government-fixed price, we will have to incur huge losses." 
Idris, a major rice trader in Pabna, himself didn't enter a contract with the government.
Food Controller Muhammad Tanvir Rahman, however, said they could not meet the procurement target because of the millers' negligence.
"We are preparing to take legal actions against the rice millers and fake traders," Tanvir further said.
Meanwhile, in Sirajganj, Aman procurement made a good progress this season.
SM Saiful Islam, district food controlling officer, said they have already collected 9,380 tonnes of rice against the target of 9,450 tonnes this season.
"We have repeatedly issued notices to the millers and inspired them to supply rice to make the procurement drive a success," he said.