Govt hajj package: Last-minute hike puts many on edge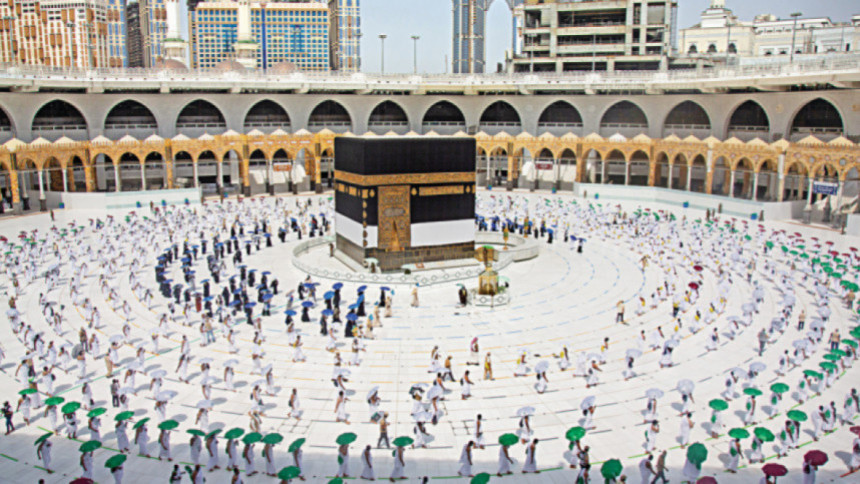 The religious affairs ministry dropped a bombshell on potential hajj pilgrims yesterday telling them that they would have to pay Tk 59,000 by Monday on top of the already hiked hajj package costs.
The sudden last moment announcement has sent many likely pilgrims scrambling to manage the money. Some would fail to gather the cash and not perform hajj this year, several aspirant hajis and leaders of Hajj Agencies Association of Bangladesh (Haab) have said.
Briefing reporters after a meeting of the executive committee on hajj management, State Minister for Religious Affairs Ministry Faridul Haque Khan said they had to do this at the eleventh hour as the Saudi authorities only on Wednesday informed them about increased moallem (a guide and team leader) fees and other expenses.
Now a pilgrim has to pay at least Tk 5,22,744 to perform hajj under private management this year, up by Tk 1,68,150 from 2020.
On May 12, Haab, a platform of around 1,500 agencies, said the cheapest hajj package would cost Tk 4,63,744 this year.
A day before, the ministry said pilgrims under government management would have to pay between Tk 4,62,150 (package-2) and Tk 5,27,340 (package-1) depending on the location of their hotels in Makkah.
The amounts are at least 1 lakh more than that of 2020.
The expensive government package allows a haji to stay within a kilometre of Masjid ul Haram.
The state minister yesterday said package-1 would now cost Tk 5,86,340 and package-2 Tk 5,21,150.
The costs do not include the Tk 19,683 one must pay for a qurbani (sacrificing animals) coupon from the Islamic Development Bank in Saudi Arabia.
Talking to this paper, several aspirant hajis have said they were finding it difficult to manage the additional money with the clock ticking.
"I am not sure whether my relatives will be able to lend me the money within this short period of time," said Rezaul Islam Jewel, employee of a company.
A Haab leader said they expect that many would fail to come up with the money.
The state minister yesterday said they have asked the Bangladesh Bank to keep designated banks open today -- even though it is the weekend -- so that people could deposit the money.
Faridul said although the actual cost of performing hajj was higher, they decided to add only the increased expenditure in Saudi Arabia keeping in mind the socio-economic condition of Bangladeshi pilgrims.
Asked if the government was subsidising the pilgrimage, the junior minister did not give a direct answer.
He said his ministry had hurriedly announced the provisional hajj packages earlier without finalising the costs due to media criticism about delaying the announcement.
"That's why we had announced the hajj packages on condition that the price of the hajj packages might increase or decrease subject to the Saudi government's decision," he said
According to the bilateral agreement between Bangladesh and Saudi Arabia, 57,585 Bangladeshis will be able to perform hajj this year. About 4,000 of them will be under government management.
Hajj, a pilgrimage must for able-bodied Muslims at least once in their lifetime, is likely to be on July 8, depending on the sighting of the moon. Hajj flights begin on June 5.
In 2019, around 1.27 lakh Bangladeshis were allowed to perform hajj. However, due to the pandemic, the largest annual Muslim congregation was held on a limited scale in the last two years.