Government didn't keep its promise
Speakers tell roundtable marking 25 years of CHT Peace Accord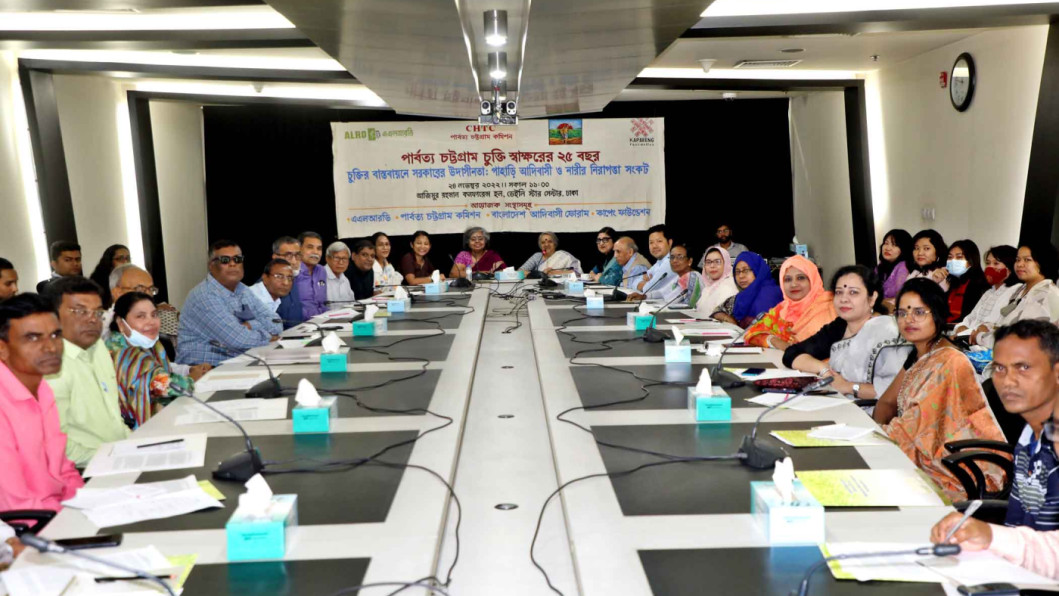 The government did not keep its promise to fully implement the Chittagong Hill Tracts Peace Accord even two and a half decades after it was signed, said speakers at a roundtable yesterday.
They said violation of human rights continues to occur in the hilly areas, where violence against indigenous women is still a common phenomenon.
Marking 25 years of the signing of CHT Peace Accord on December 2, the Association for Land Reform and Development (ALRD), Chittagong Hill Tracts Commission (CHTC), Bangladesh Adivasi Forum and Kapaeeng Foundation jointly organised the roundtable titled, "The government's reluctance to implement the accord: Security crisis of indigenous people and women", at The Daily Star Centre in Dhaka yesterday.
Khushi Kabir, coordinator of "Nijera Kori" moderated the event, while Rani Yan Yan, adviser to the Chakma circle chief, presented the keynote paper.
Citing the keynote paper, Dr Meghna Guhathakurta, executive director of Research Initiatives, Bangladesh, said the government claims that out of the 72 articles of the agreement, 48 have been implemented fully and 15 partially.
However, according to Parbatya Chattogram Jana Samhati Samity, which signed the agreement with the government, only 25 articles have been implemented. Eighteen have been partially followed, while the rest of the 29 remain completely unimplemented.
Dr Mizanur Rahman, former chairman of Human Rights Commission, said a quarter-century went by, but the state did not keep its promise.
"During our time, we used to arrange programmes for the indigenous people. Now, the NHRC does not even utter the word 'indigenous'... The Bangalee settlers in CHT are being called 'climate refugees' whereas they don't come under any the definition of refugee," he said.
Dhaka University Professor Dr Sadeka Halim stressed the need for unity among the indigenous communities for full implementation of the peace accord that was signed in 1997 during the Awami League government.
Despite being in power for 14 years since 2009, the peace accord was not implemented fully due to its reluctance, said Pallab Chakma, executive director of Kapaeeng Foundation.
ALRD Executive Director Shamsul Huda also spoke on the occasion.