Gopalpur mass killing '71: PM's gift brings joy to martyrs' families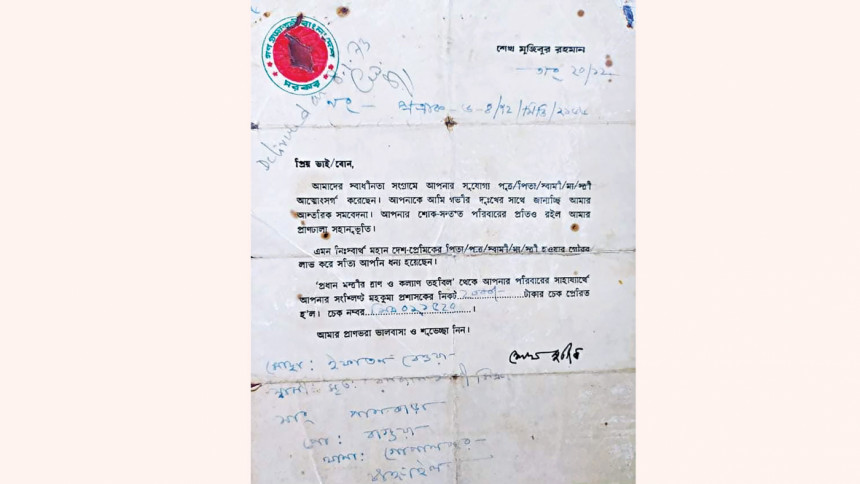 On September 30 during the 1971 Liberation War, Ramajan Ali Miah, along with others, was killed by the Pakistani forces in Mahmudpur area of Tangail's Gopalpur.
After the war ended, his widow, Ifatan Bewa, received a letter from Bangabandhu Sheikh Mujibur Rahman. In the letter, Bangabandhu said Ramajan was a martyr. He also expressed deep sympathy to Ramajan's family.  
A cheque of Tk 2,000 was also sent to Ifatan from the relief and welfare fund of the then prime minister.
Ifatan, however, did not get any further assistance and so she had to beg to feed herself.
Despite all the odds, she preserved the letter for the last 50 years.
Last week, a daily published news on the matter after which it grabbed the attention of Prime Minister Sheikh Hasina.
The PM then directed the deputy commissioner of Tangail to stand beside Ifatan and the families of 16 other victims of the mass killing on September 30, 1971.
The families were overwhelmed with joy after receiving a special gift from the prime minister.
DC Ataul Gani along with others went to the house of Ifatan in Pankata village in Dhanbari upazila on January 9 and handed over Tk 20,000, clothes and fruits to her on behalf of the PM.
The families of 16 other martyrs were provided with the same gift.
The DC told reporters that Bir Nibas (houses) would be built for the martyrs' families as per the PM's wish.
Steps will also be taken so that they get state recognition and necessary supports as members of the martyrs' families, he added.
In her reaction, Ifatan said, "I have been fighting poverty for the last 50 years. I have had to starve as well. I feel blessed to have received the cash and gift items from the prime minister."
She wished the PM a long life.