Good catch plunges hilsa prices despite high export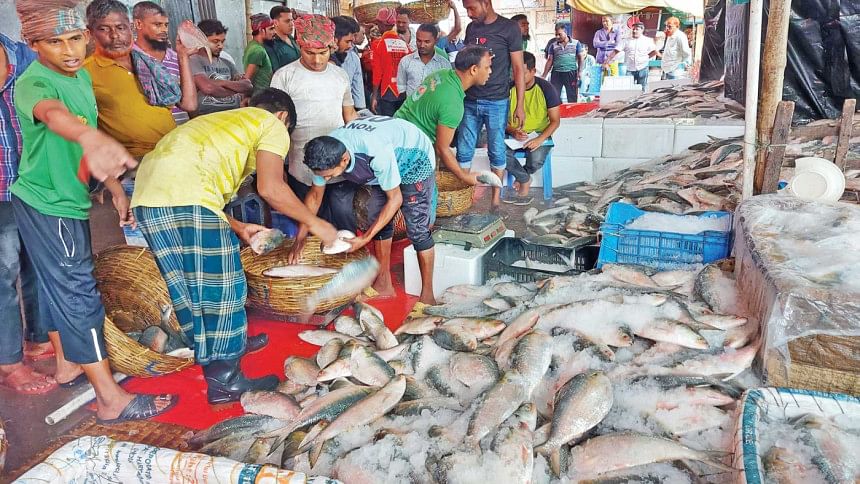 The price of hilsa has decreased by around 10 percent in Barishal markets due to higher than usual supply of the fish netted from the Bay of Bengal and various rivers.
The Port Road hilsa market in Barishal wore a festive look as traders were bringing thousands of hilsa to the division's largest wholesale market on trawlers and trucks.
Pintu, a trader there, said 300 to 400 maunds of hilsa used to be brought to the market, but now at least 1,200 maunds are being bought and sold every day.
Another trader, Ujjal Das, said due to the markets being flooded with the fish, the price has decreased by at least Tk 4,000 per mound.
He said even seven days ago, the price per maund of hilsas weighing 700-900 grams was Tk 44,000, and price per maund of hilsas over one kilogramme was Tk 52,000, but for the last two days, the prices have dropped to Tk 40,000 and Tk 48,000.
Nurunnabi, a fisherman in Bhola, said the number of hilsas in the sea and river estuary had increased substantially in the last three to four days.
Bimal Chandra Das, Barishal district fisheries officer, said the price of hilsa has come down as the markets have been flooded with the fish for the last three days.
As a result, the price has decreased 10 percent, and may continue to go down.
Nazmul Hossain Bappy, a C&F agent at Benapole land port, said hilsa export from the port has also increased.
Nirab Hossain Tutul, a hilsa exporter in Barishal, also said the price of hilsa has decreased at least Tk 4,000 per maund and business was more profitable than last year due to low prices and high supply.
Anisur Rahman Talukder, deputy director of Department of Fisheries at Barishal division, said 5.6 lakh tonnes of hilsa was netted last year across the country when the target was 5.5 lakh. This time the target is 6 lakh tonnes and that is also expected to be fulfilled, he said.
Mahbubur Rahman, fishery quarantine officer of Benapole, said 118.66 tonnes of hilsa were exported through Benapole port between Monday and Saturday last week.