Bangladesh's gas reserves drying up
Experts stress need for exploration, overhaul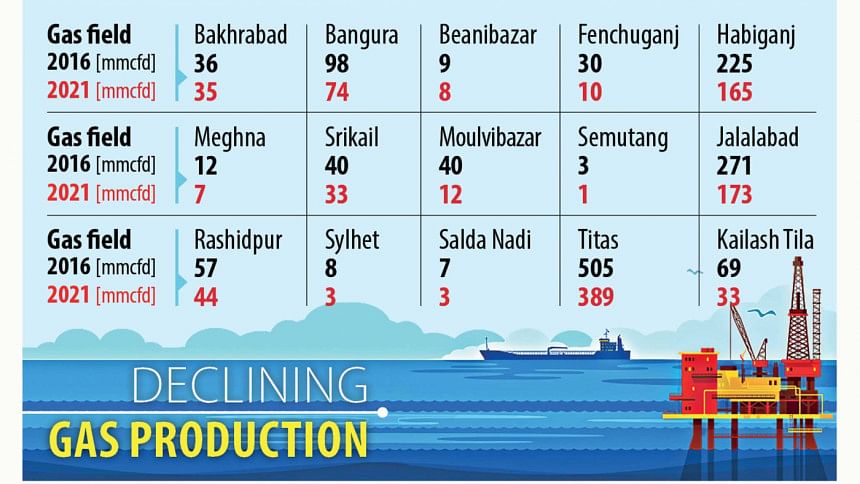 The yield of Kailash Tila, the main source for Sylhet Gas Fields Ltd, was on average 69 million cubic feet per day in 2016, but it dropped to 29 million cubic feet in January this year.
Extraction from Kailash Tila began in 1983 following its discovery in 1962. It has seven wells. Over the years, the authorities suspended extraction from five of them, saying they were finding water, not gas.
This is not an isolated case. In fact, most of the country's 20 fields are producing less gas than before, The Daily Star has found analysing data from the Hydrocarbon Unit (HU) under the government's energy and mineral resources division.
The country faced a massive gas crisis when the Chevron-operated Bibiyana gas field, the highest gas producing field, stopped production from six of the 26 wells due to technical glitches earlier this month.
Consumers in different areas of Dhaka experienced shortages or low gas pressure from the first day of Ramadan for a week.
The HU data shows three state-owned and two international companies extracted 2,352mmcfd in 2021, down from 2,666mmcfd in 2016.
Compared to five years ago, production increased only from four fields.
Amid this situation, Bangladesh Oil, Gas and Mineral Corporation (Petrobangla) says the country has gas reserves for nine to 10 years, assuming a consumption of around 1 trillion cubic feet every year.
The 28 gas fields discovered so far had a proven reserve of 29.9 trillion cubic feet. Of it, 19.11 TCF gas has already been extracted, Petrobangla data shows.
Natural gas is used for cooking, producing fertiliser, generating power and meeting the needs of industries.
"The capacity of any gas field or well drops over time. It's natural," said Mizanur Rahman, managing director of Sylhet Gas Fields Ltd.
"There are some maintenance and development work underway, but we will conduct studies to find why production from two promising wells in Kailsah Tila stopped suddenly last year."
Experts said the drop in gas extraction was a threat to the country's energy security. They stressed the need for aggressive exploration for new reserves.
They said the government did not carry out gas exploration properly.
"It's true that the capacity of gas fields decreases gradually. It's called 'natural diffusion', which depends on the geological character, structure and technical maintenance of a field," said Prof Shamsul Alam, prominent energy expert and vice president of Consumers' Association of Bangladesh.
"But it's possible to extract more by overhauling the wells which is something that has not been done in most gas fields… gas was found in fields which were declared abandoned earlier," he said.
Shamsul said the government did not follow the recommendations of "Consultancy Services for Gas Production Augmentation" report of 2011. It emphasised the need for overhauling the wells, adopting a systematic and risk-based approach to best utilise resources, exploring in coastal areas and hill tracts, and moving to more frontier areas to unlock exploration potential.
A member of the Bangladesh Energy Regulatory Commission (BERC) echoed Prof Shamsul.
Wishing to be unnamed, the member said, "It was possible to increase the production of at least 40 wells and extract 400-800mmcfd by investing about $125 million, but the government didn't do it. Suggestions mentioned in the 2011 report have largely been ignored."
Prof Shamsul Alam said the government has been more focused on importing liquified natural gas (LNG) than on investing in exploration.
"It seems we don't want to explore our gas reserves. It seems we want to overcome our gas crisis by importing LNG at high prices," he said.
"For instance, well number 9 of the Rashidpur gas field [in Habiganj] has been ready for extraction since 2016, but it is yet to go into operation."
Criticising the government for not extracting at all from Bhola and Chhatak East gas fields, Shamsul said the current government has "no achievement in exploration. We are reaping the fruits of explorations of 1996".
Prof Badrul Imam, former teacher of geology at Dhaka University, said production at every gas field starts to decline after hitting the peak. "For most of the fields, we are going through that period when production goes down…"
A lot of gas is yet to be discovered, he added.
"The authorities drilled only 28 exploratory wells in the last 20 years, which is a ridiculously small number for a country with high hydrocarbon potential.
"We hit gas in every three wells drilled when the global average is five. We have at least 40 abandoned wells. If we can invest in overhauling them, we can produce gas and save money by not importing LNG."
He said the government should take up a priority project in this regard.
Two international surveys found 32 TCF and 42 TCF gas under the plains of Bangladesh, he said, adding that to find those reserves, the government needs to explore aggressively.
"Our tendency is to look for things that we can find easily. We are not conducting the second phase exploration," he added.
Contacted, Nasrul Hamid, state minister for power, energy and mineral resources, said exploration is a regular job of Bangladesh Petroleum Exploration and Production Company Ltd of Petrobangla.
"We have a proper plan on drilling wells."
On the claim that the government prefers import to exploration, he said, "We could ask those making such comments to get involved in the drilling process, if needed.
"If we drill today, we will not get gas tomorrow. It will take time. But our national demand for gas is galloping. To meet the growing demand, we are left with no other option but to import LNG."
OFFSHORE EXPLORATION
No comprehensive programme for offshore exploration had been taken up since such exploration began in 1974, experts pointed out.
The Daily Star found that the authorities failed to have a multi-client survey done even though Petrobangla initiated the process in 2015.
Officials and experts said the multi-client survey is a key study for finding reservoirs.
In 2015, Petrobangla floated a tender for conducting the multi-client survey but the energy ministry cancelled it.
A fresh tender was floated the next year.
On both occasions, a joint consortium of Norway's TGS and the USA's Schlumberger won.
The work order, however, was issued three years later.
The survey was supposed to start in November last year, but it had not.
Prime Minister's Energy Adviser Tawfiq-e-Elahi Chowdhury recently claimed that deep-sea exploration would not be possible as the world was moving away from fossil fuels.
But experts said the authorities were just not following the proper procedures.
"It's like a conspiracy against the country. We started the procedure in 2014-15, but why has the job not been done yet?" said Prof Badrul.
Nasrul Hamid said, "We need at least another 10 years to know how much gas there is under the sea."