Gas crunch brings back power cuts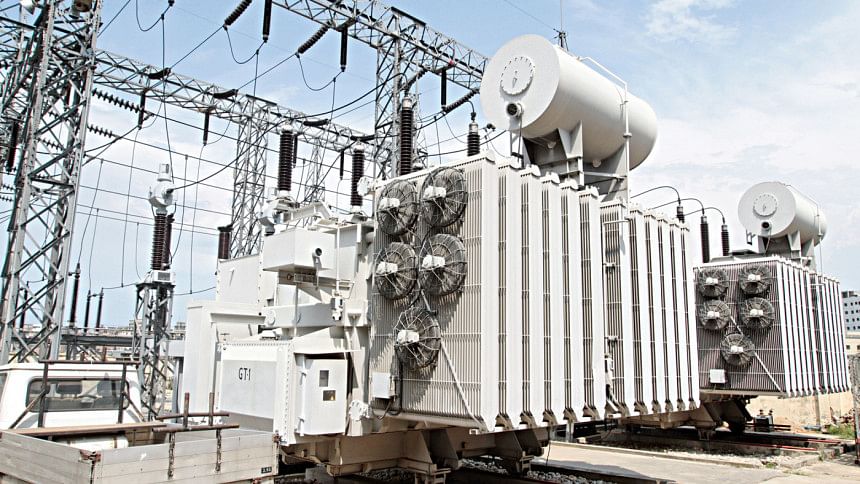 People have been enduring severe power cuts for the last few days as electricity production was hampered mainly due to a shortage of natural gas supply.
Around 52 percent of the country's power is produced using gas, according to Bangladesh Power Development Board (BPDB) data.
However, according to data from state-owned Petrobangla, the government has been injecting less LNG into the national gas-supply grid for the last few days. The government decided for the time being to not buy LNG from the international spot market where the price has gone up significantly in recent months.
Power production accounts for around 70 percent of the country's total gas consumption, according to energy division data.
Due to less power generation, people across the country have been experiencing power outages multiple times a day, raising the spectre of a return to the days before 2012 when "load-shedding" had become a dreaded household word.
Although the word had started to fade from the national consciousness since 2018, it featured in a Dhaka Power Distribution Company (DPDC) statement issued yesterday, in which the state-owned organisation apologised to the consumers.
"Due to gas shortage, DPDC is being allotted less electricity. As a result, we have to conduct load-shedding in some places," read the statement. 
DPDC Executive Director Bikash Dewan said, "We are trying to provide uninterrupted electricity supply to important service sectors and key state establishments."
Nasrul Hamid, state minister for power, energy and mineral resources, in a Facebook post on Sunday said the power generation is facing disruption due to gas supply shortfall.
The country is facing a supply crunch of fuel like the rest of the world as a consequence of the ongoing war between Ukraine and Russia, he said.
He, however, did not mention how long the situation would last.
"Power generation will return to full normalcy once gas supply is restored," he said.
At least 854mmcfd (million cubic feet per day) of LNG was supplied to the national gas grid on June 29. It had dropped to 507 mmcfd by yesterday, according to Petrobangla data.
Multiple officials of Petrobangla told The Daily Star that about 250-300 mmcfd of LNG demand was fulfilled from the international spot market, but after the recent price hike, they decided not to buy LNG from the spot market till prices came down.
According to energy ministry data, on average 3,100-3,200 mmcfd of natural gas was distributed across the country since the beginning of the year.
But since June 30, the average supply stood at 2,800-2,900 mmcfd, according to the daily production and distribution report of Petrobangla.
Petrobangla Chairman Nazmul Ahsan said they would buy LNG from the spot market only after the price comes down.
"The world is in a crisis situation and everyone is taking steps to be thrifty. We are trying to produce more gas from our internal sources," he said.
Officials of the power, energy and mineral resources ministry said the government is in trouble. "The spot market price of LNG was $26 per Metric Million British Thermal Unit when we last bought it in May. It has now increased to over $36," said an energy ministry official, preferring anonymity.
Dhaka dwellers said they have been experiencing power outages of 30-40 minutes three-four times a day since June 30.
"We didn't sleep the whole night because the power was out at least four-five times. We have a newborn and he was sweating all night. It was painful," said Hasina Begum of the capital's Banasree area.
Some city dwellers complained that the power cuts sometimes last more than an hour.
"On Sunday, there was no electricity in our home for about an hour," Hasanur Rahman of Adabor told The Daily Star.
Residents in Chattogram complained that they experienced power outages about 8-10 times a day.
The port city has a daily supply shortage of 200MW, said Shahidul Islam, deputy director of BPDB's Chattogram zone.
He said they were making up the shortfall mainly by interrupting supply to households, keeping industrial areas unaffected.
Power Cuts Return
In 2012, Prime Minister Sheikh Hasina instructed implementing a two-hour daily outage to manage power supply shortfall.
But since 2018, load-shedding -- the interruption of power supply -- became almost non-existent in urban areas, although there were regular outages in rural areas.
The government had then said there was no load-shedding across the country due to shortage on the production side, and that outages in rural areas happened due to lack of distribution capacity and system loss.
Contacted yesterday, Saiful Hasan Chowdhury, director of public relations of BPDB, said they have a countrywide daily demand of 14,000 megawatts in peak time.
"But we are generating 12,000-13,000MW," Hasan said.
"We had no load-shedding due to production shortfalls earlier, but now we are in shortage. If we don't manage alternate sources, it will continue for some days," he feared.
DPDC has a peak demand of 1,300MW daily but have been getting 1,000MW for the last two days, according to a power division official.
DESCO, another distributor in Dhaka, has a demand of 1,000MW, but were getting 850MW for the last couple of days, the official said.
Shahidullah Azim, senior vice-president of Bangladesh Garment Manufacturers and Exporters Association, said many factory owners have been complaining to the association that their production is affected due to load-shedding in industrial zones.
"Many of the manufacturers are facing delays in shipment of goods," he said.
"The factory owners have to buy diesel for generators to run their production units [in case of power outage]. As a result, the cost of production has been increasing at an already tough time," Azim said.
An energy ministry official wishing anonymity said, "We have decided on about an hour of load-shedding in Dhaka city. The BPC is also in trouble as fuel prices have gone up in the international market. To avoid huge losses, we have also decided not to run most of the oil-based power plants."
Another power division official feared that the power crisis would continue for a long time.
"We are taking various austerity measures to tackle the extraordinary situation. We will reinstitute the measure to shut down all markets and shopping malls by 8:00pm after Eid," the official said.
SHORTAGE EVERYWHERE
In Gazipur, there were about three-four hours of outages daily in residential areas, while about one hour of power cuts in industrial areas.
"When the power disruption occurs for an hour, the workers have no option but to take a break and at least 1.5 to 2 hours of working hours are wasted," said Nasir Uddin, director of a knitwear company.
Residents in northern districts including Rajshahi, Bogura, Gaibandha and Joypurhat are facing acute load-shedding.
A doctor of Bogura's 250-bed Mohammad Ali Hospital said yesterday, "We have experienced load-shedding in the operation theatre while conducting surgeries and the doctors had to wait for generators."
"Some machines don't run on generators," he said.
Residents said they have not seen such outages in the last several years.
Sabina Akter of Rajshahi city's Laxmipur area said load-shedding has plagued them day and night for the past few days.
Jakiul Islam, managing director of Northern Electricity Supply Company Limited (NESCO) said the outages are happening as Rangpur and Rajshahi divisions have been witnessing an average 200MW power shortage daily.
[Anwar Ali, Mostafa Shabuj, Nazrul Islam and Abu Bakar Siddique Akand also contributed to the report]