A free haat for Ramadan
Mymensingh-based org provides daily essentials to those in need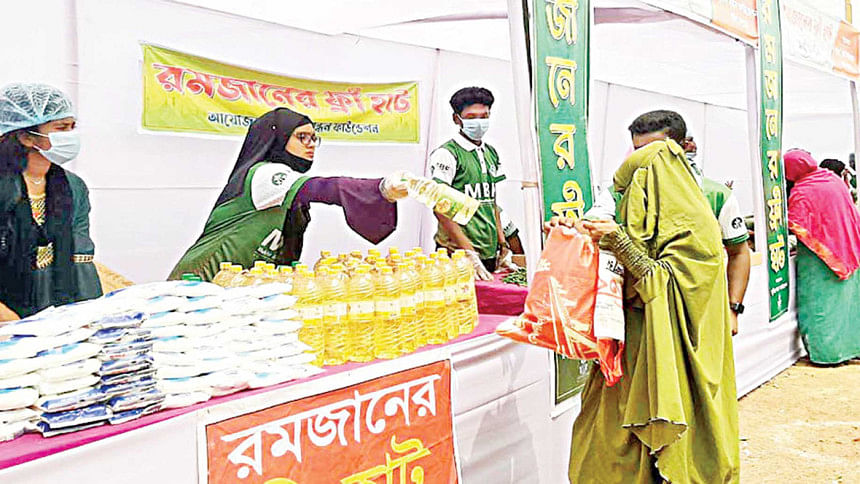 To help people in need, "Muktir Bandhan Foundation" has started a weekly service under the banner of "Ramzaner Free Hat" from the first day of Ramadan in Mymensingh.
Under this programme at Uttar Bongaon village in Atharabari union of Ishwarganj upazila, daily essentials are being provided for free to those who cannot avail of them from the markets due to soaring prices.
The programme was inaugurated by Mohammad Enamul Haque, deputy commissioner of Mymensingh.
On the first day, daily essentials were provided to over 400 families, according to Azharul Islam Palash, the foundation's programme coordinator.
Palash said the funds are being managed from donors and volunteer contributions.
Social media platforms are also helping them manage funds, said Shahnaz Parveen Nabila, a volunteer of the organisation.
The free daily essentials include vegetables, soyabean oil, iftar items, salt, fish, onions, garlic, gingers etc. The organisation will conduct six weekly haats during Ramadan, including four for daily essentials and two others for Eid gifts for children.
"It was way beyond the imagination that I would get a bag full of supplies for free at such a trying time," said Shahera Khatun (55) of Dighalia. Jamela Khatun (50) from Uttar Bongaon village mentioned that the supplies will support her family for a couple of days, while a 45-year-old Barek Mia of Mohesh Chatul village shared that he is currently unemployed and so the free supplies are of great support to his family.
"This comes as a noble gesture when a section of people are trying to make profits through the black market and illegal hoarding," said Atharabari UP chairperson Juber Alam Kabir.