Four years of Churihatta fire: Victim families still await fair compensation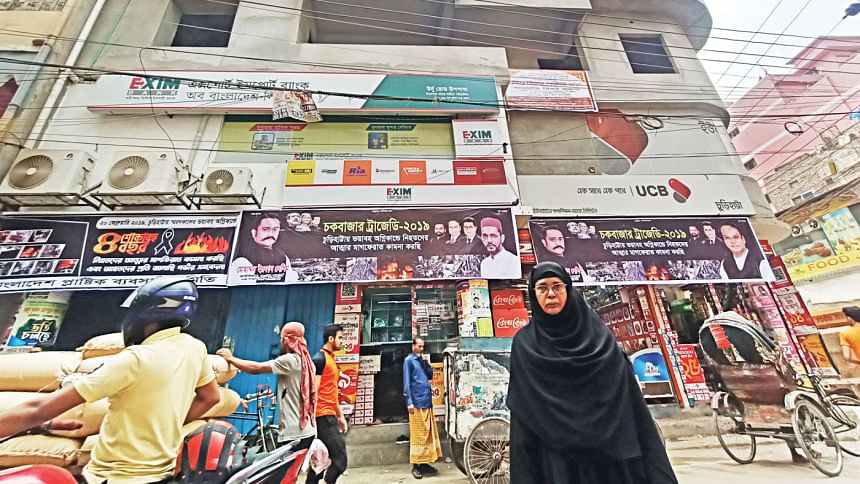 It was like hell on earth for people living inside Hazi Wahed Mansion in Churihatta area of Old Dhaka. The fire started in a chemical warehouse on the ground floor of the five-story building and quickly spread to three other nearby buildings, including a community centre.
Seventy one people were burnt to ashes on that night on February 20, 2019, while dozens were injured. Even commuters and pedestrians were killed, demonstrating the magnitude of the incident and how dangerous chemical warehouses can be inside residential premises.
For a year, the walls of the building remained scorched black, a thin film of soot covered the burnt-out pillars and roofs and a smell of burnt remnants wafted through the air around it.
But, four years later, looking at the Wahed Mansion, it's impossible to tell that 71 people were killed by a chemical-fed fire in this very building.
Visiting the place yesterday, this correspondent saw no burn marks on the entire building. The establishment looked somewhat new as there was a fresh layer on the building's wall. Several private banks rented the second floor of the building to conduct their operations. The ground floor of the building was occupied by various businesses, while the third and fourth floors were being prepared for rent.
So while it's business as usual again for the owners of Wahed Mansion, the same redemption arc was not seen in the cases of survivors and victim families.
As their loved ones passed the last moments of their life in agony, these fire survivors were  left with a horrific memory that will haunt them forever.
What's worse is, the families of the victims barely got  anything promised by the government, they claimed.
While some of them got jobs as cleaners, they said it was far from adequate compensation for them, who had lost the sole breadwinner of their families on that fateful February night.
Hosne Ara lost her son Reazaul Karim that night.
"I was given a job as a cleaner on a daily wage earner's contract. I didn't get anything else. How is that fair?" she asked with teary eyes.
Fatema Akhter, who lost her husband Faisal Sarwar in the fire, echoed the same.
"I have two teenage daughters. I got a job from Dhaka South City Corporation as a cleaner. It's tough to run a family with this income."
"We heard there was a Tk 30 crore fund for us. So where did the money go?" she asked.
Hazera Begum, who also lost her husband in this incident, said, "My daughter's age is now 26. I can't even provide for arrangements of her marriage as I don't have any money left."
Kalilur Rahman Miraz lost his two brothers -- Mahbubur Rahman Raju and Mohammad Masud Rana in the Churihatta fire. He was told that DSCC allotted a shop for them in the Palasi area. But the hope was soon snatched away from him.
"We deposited Tk 3 lakh for the shop. But later, DSCC said the market doesn't exist. So, they returned our deposit. Now, I don't have anything."
An association of the victim families pressed forward seven demands from an event near the site .
Ashiq Uddin Soinik, general secretary of the association, said, some of their demands include exemplary punishment for all accused in the Churihatta fire case, fair compensation for the victims families, removal of chemical warehouses from residential areas and so on.