Forced by poverty, Thakurgaon labourer puts up 7-month-old baby girl for sale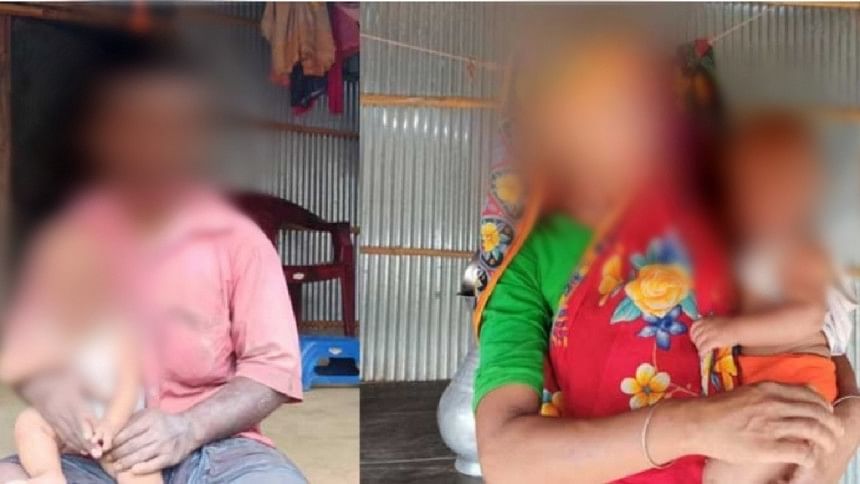 Forced by poverty, a day labour Matiur Rahman, 46, from Baliadangi upazila of Thakurgaon, has decided to sell his seven-month-old baby girl Sammi to arrange money to run his family.
In his family of six members, he always struggles to earn bread for all due to poverty. Eldest daughter Parul, 14, is in class nine, Sumaiya Akhtar, 9, is in class three in a local school and Suraiya Akhtar, 6, is studying in a madrasa next to the house.
He was not able to bear the education expenses of three daughters and the expenses of baby girl Shammi which forced him to take the baby to a local market for sale or adoption on Sunday.
But when the locals got to know this they suggested him not to sell the child and father Matiur brought the child back home.
Father Matiur said, "I have no son. I am the only earning member in the family. Three meals a day is not enough with the daily wage."
Mother Nazma Begum, 39, said, "Our eldest daughter is studying in class nine and she will be married off soon. But we have no property to educate the girls and get them married."
"So my husband took my youngest daughter to the market to sell to people," she added.
In this regard, UP member of Bara Palashbari Union Harun Or Rashid said he will arrange assistance for Motiur from the Union Parishad and the government.
Baliadangi Upazila Executive Officer (UNO) Moha Jobair Hossain also assured Matiur of financial assistance.